Beautifully printed fully issued early TAX FREE certificate from the Confederate States of America dated September 19, 1864. This was issued for $5,000. This historic document was printed by George Dunn & Company, Richmond, Virginia and has a border around it with a vignette of a man and stile at top left. It was issued under an act of the CSA Congress approved on February 17, 1864. This certificate has been hand signed for the Register of the Treasury, by C.A. Rose. Stamp on face, "Interest Paid to 1st January 1865 at Montgomery (Ala)". Issued to B. H. Micou, Esq. (Benjamin H. Micon). No more than 850 of these bonds were issued, but it is unknown how many survived. This is the only one we have seen in this range with the Short transfer form on back. It is not shown in this range in Ball/Criswell Book. Montgomery, Alabama historic interest stamp printed on front. This is the second rarest denomination in this series.
RARE Short Form on Back of Bond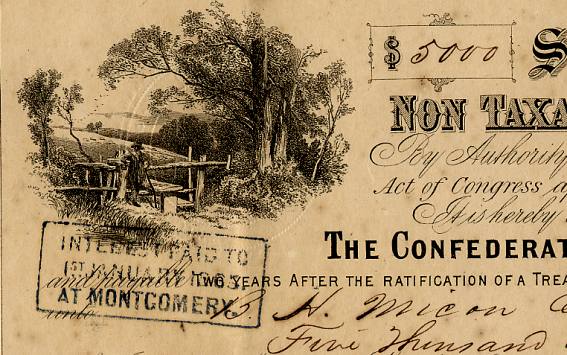 Certificate Vignette
B. H. Micou, Esq., one of the Vice-Presidents of the National Cotton Manufacturers' Association, and President of the Tallassee Manufacturing Company, whose factory is situated upon the Tallapoosa River, a short distance above Montgomery, Alabama, published an interesting report, containing interesting statements relative to manufacturing cotton in the South for export, and to manufacturing cotton at Tallassee, Alabama, into yarn for export to Europe. Mr. Micou says: " We have in the South some important advantages--viz: The health- fulness and even temperature of the climate; the equality of time of our length of days through the year; steady, cheap and abundant water power ; the raw material at hand; a fertile soil, and a good supply of unskilled labor. Nature has been bountiful, and even lavish in her inducements. All that is wanted is proper energy and capital to command skilled labor, which, well directed, ensures success.