Beautifully engraved specimen certificate from the Cruicible Steel Company of America printed around 1910. This historic document was printed by the Republic Banknote Company and has an ornate border around it with a vignette of a young man pouring molten steel into a mold.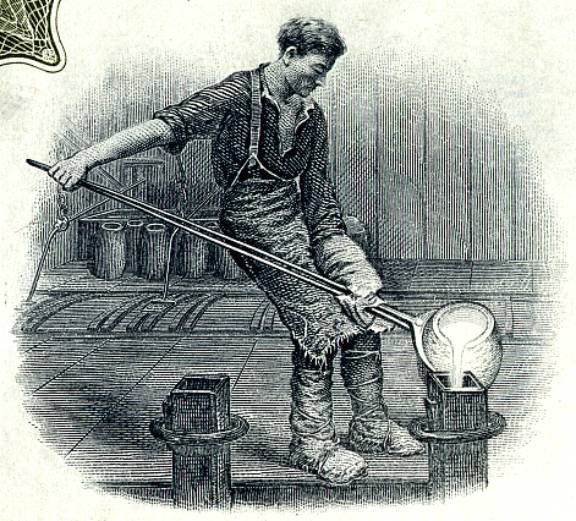 Certificate Vignette
The roots of today's Crucible Steel go back to 1776, when Naylor and Sanderson steel mill was established in Sheffield, England. One hundred years later, the firm established the Sanderson Brothers & Co. plant in Syracuse, New York. By 1900, Sanderson Brothers was one of 13 steel manufacturers in the newly formed Crucible Steel Company of America. In 1911, the Halcomb Steel Company of Syracuse a producer of tool steels, stainless, and alloy steels joined the Crucible family. Crucible has been a technological innovator throughout its history. In 1883, Crucible was the first steel mill in North America to use gas-fired melting furnaces for tool steel production. In 1906, Crucible became the first mill in the Western hemisphere to install an electric arc furnace. In 1907, Crucible created the first patented vanadium high-speed steel, and in 1955, it was the first company to commercially produce vacuum arc remelted steels. Crucible created another first when it introduced free-machining stainless steels, and in 1970, it became the first company to develop P/M high-speed tool steels, produced by the CPM (Crucible Particle Metallurgy) process. Stock research by
OldCompany.com
(old stock certificate research service).
---
About Specimen Certificates
Specimen Certificates are actual certificates that have never been issued. They were usually kept by the printers in their permanent archives as their only example of a particular certificate. Sometimes you will see a hand stamp on the certificate that says "Do not remove from file". Specimens were also used to show prospective clients different types of certificate designs that were available. Specimen certificates are usually much scarcer than issued certificates. In fact, many times they are the only way to get a certificate for a particular company because the issued certificates were redeemed and destroyed. In a few instances, Specimen certificates were made for a company but were never used because a different design was chosen by the company. These certificates are normally stamped "Specimen" or they have small holes spelling the word specimen. Most of the time they don't have a serial number, or they have a serial number of 00000. This is an exciting sector of the hobby that has grown in popularity over the past several years.