Beautifully engraved RARE specimen stock certificate from the Devoe & Raynolds Company, Inc. printed in the 1950's. This historic document was printed by the American Banknote Company and has an ornate border around it with a vignette of an indian flanked by two allegorical men. This item has the printed signatures of the Company's President and Secretary.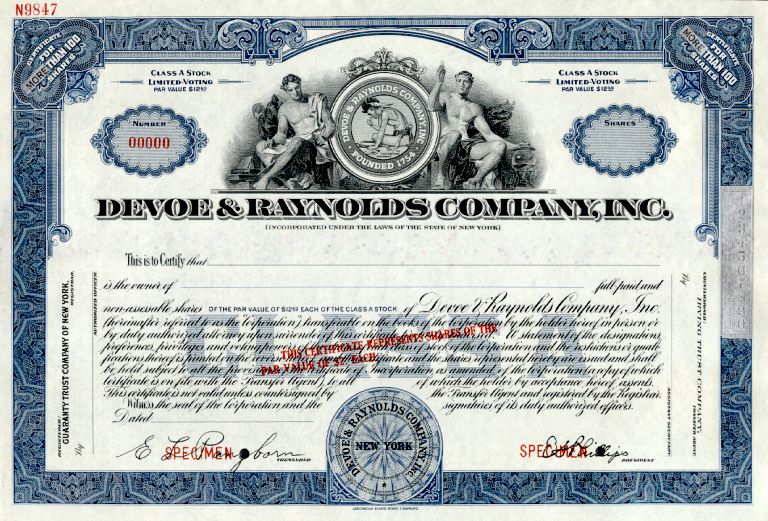 Certificate
Devoe is America's oldest maker of paint and remained Grow's chief subsidiary into the mid-1990s. Devoe was started in 1754 by William Post, who opened a paint shop in New York City. The company prospered during the 1800s and 1900s by becoming a leading innovator and supplier in the industrial and commercial coatings industry. Devoe expanded through acquisition and merger. In 1928 and 1938, for instance, Devoe absorbed the varnish divisions of Peaslee-Gaulbert Co. and lacquer operations of Jones-Dabney Co. Devoe is recognized for its advanced research and development efforts. Among the company's most notable inventions, in fact, is epoxy resin. Introduced in 1945, that discovery is credited as one of the most significant breakthroughs in coating technology during the twentieth century. "Epoxy resin is the backbone of all high-performance resins, giving them durability, hardness and adhesion," explained Gary Miller, Devoe & Raynolds president, in the Courier Journal. "Before epoxy resin, the coatings on chemical plants may have lasted a matter of months. After epoxy resin, the job lasted a matter of years." Devoe was bought by Celanese in 1964 before GrowGroup Inc. acquired it in 1976. In the early 1990s Devoe & Raynolds and its sister company, Devoe Coatings, were supplying about 60 percent of Grow's total revenues. History from Wikipedia, International Directory of Company Histories and
OldCompany.com
(old stock certificate research service)
About Specimen Certificates
Specimen Certificates are actual certificates that have never been issued. They were usually kept by the printers in their permanent archives as their only example of a particular certificate. Sometimes you will see a hand stamp on the certificate that says "Do not remove from file". Specimens were also used to show prospective clients different types of certificate designs that were available. Specimen certificates are usually much scarcer than issued certificates. In fact, many times they are the only way to get a certificate for a particular company because the issued certificates were redeemed and destroyed. In a few instances, Specimen certificates were made for a company but were never used because a different design was chosen by the company. These certificates are normally stamped "Specimen" or they have small holes spelling the word specimen. Most of the time they don't have a serial number, or they have a serial number of 00000. This is an exciting sector of the hobby that has grown in popularity over the past several years.