Beautifully engraved certificate from the Dollar General Corporation issued nop later than 1985. This historic document was printed by the American Banknote Company and has an ornate border around it with a vignette of a large town with a Dollar General store at the center. This item has the printed signatures of the Company's Chairman, Cal Turner and Secretary, and is over 27 years old.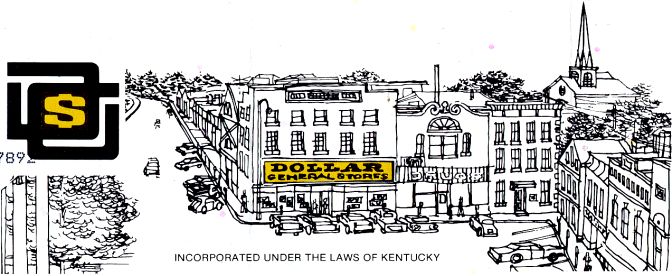 Certificate Vignette
Dollar General Corp. is a U.S. chain of variety stores headquartered in Goodlettsville, Tennessee. As of January 2011, Dollar General operated over 9,300 stores in 35 U.S. states. The stores were founded in 1939 by Cal Turner in Scottsville, Kentucky as J.L. Turner & Son, Inc. In 1968 the business changed its name to Dollar General Corporation. In 2007 the company was acquired by the private equity firm Kohlberg Kravis Roberts & Co. (KKR), which took the company public in 2009. Dollar General stores are typically in small shopping plazas or strip malls in local neighborhoods. The company acquired the 280 stores of the P.N. Hirsh Division of Interco, Inc. (now Furniture Brands International, Inc.) in 1983 and in 1985 added 206 stores and a warehouse from Eagle Family Discount Stores, also from Interco, Inc. In recent years, the chain has started constructing more stand-alone stores, typically in areas not served by another general-merchandise retailer. In some cases, stores are within a few city blocks of each other. Dollar General offers both name brand and generic merchandise -- including off-brand goods and closeouts of name-brand items -- in the same store, often on the same shelf. Although it has the word "dollar" in the name, Dollar General is not a dollar store. Many of its offerings are priced at more than one dollar. However, goods are usually sold at set price points of penny items and up to the range of 50 to 60 dollars, not counting phone cards and loadable store gift cards. Dollar General typically serves communities that are too small for Wal-Marts. It competes in the dollar store format with national chains Family Dollar and Dollar Tree, regional chains such as Fred's in the southeast, and numerous independently owned stores. Since the turn of the century, Dollar General has experimented with stores that carry a greater selection of grocery items. These stores (similar to the Wal-Mart Supercenter, but much smaller) operate under the name "Dollar General Market". History The first Dollar General store opened in Scottsville, Kentucky, on June 1, 1955, the concept was that no item in the store would cost more than one dollar. The idea became a success, and other stores owned by J.L. Turner and his son Cal Turner were quickly converted. By 1957, annual sales of Dollar General's 29 stores were $5 million. The Turners did not reach this level of success without obstacles. James Luther (J.L.) Turner's father died in an accident in 1902 when J.L. was only 11. J.L. had to quit school so he could work the family farm and help provide for his mother and siblings. He never completed his education. J.L. knew his limited education demanded that he become a quick study of the world around him. After two unsuccessful attempts at retailing, J.L. became a traveling dry goods salesman for a Nashville wholesale grocer. J.L. left the sales job after 10 years and settled his family in Scottsville, Kentucky. During the Depression, he began buying and liquidating bankrupt general stores. J.L.'s only child, Cal Turner, Sr., accompanied his father to these closeouts at a young age, gaining valuable business knowledge and skills. In October 1939, J.L. and Cal opened J.L. Turner and Son Wholesale with an initial investment of $5,000 each. Wholesaling quickly gave way to retailing J.L.'s third and final attempt at retailing. The switch to retailing resulted in annual sales above $2 million by the early 1950s. J.L. died in 1964. Four years later, the company he co-founded went public as Dollar General Corporation, posting annual sales of more than $40 million and net income in excess of $1.5 million. In 1977, Cal Turner, Jr., who joined the company in 1965 as the third generation Turner, succeeded his father as president of Dollar General. Cal Jr. led the company until his retirement in 2002. Under his leadership, the company grew to more than 6,000 stores and $6 billion in sales. On July 6, 2007, all shares of Dollar General stock were acquired by private equity investors for $22 per share. An investment group consisting of affiliates of Kohlberg Kravis Roberts (KKR), GS Capital Partners (an affiliate of Goldman Sachs), Citigroup Private Equity and other co-investors completed an acquisition of Dollar General Corporation for a total enterprise value of $7.3 billion. As a part of the transition to a privately held company, Dollar General assessed each location at the end of its lease against a model known as "EZ Stores". This assessment included evaluating whether the location had a loading dock, garbage dumpsters, adequate parking, and acceptable profitability. Stores that did not pass this evaluation were relocated or closed. Over 400 stores were closed as part of this initiative. In August 2009, the company announced it will file for an initial public offering, turning the company, again, into a publicly traded corporation. Although the timing of the Initial Public Offering (IPO) was not announced by Dollar General or KKR, Dollar General filed on August 20, 2009 for an initial offering of up to $750 Million[8] The return of Dollar General to public ownership has been estimated to deliver up to a 30% increase in value to KKR over the two-year period it will have been private, making it a rare gem in KKR's current portfolio. For several years, Dollar General has had a connection with motorsports, particularly in NASCAR. The company is currently the primary sponsor for the #32 Braun Racing Nationwide Series team, which for 2009 is being shared by several drivers including Sprint Cup regulars Brian Vickers and David Reutimann. Dollar General and Braun have been partnered together since 2008, with the team previously sponsoring cars for Frank Cicci Racing and Kevin Harvick Incorporated. In 2010 Dollar General sponsored some races in the Camping World Truck Series for Kyle Busch Motorsports with Kyle Busch in the number 18 Toyota Tundraand is the title sponsor for Nationwide Series races held in Concord, North Carolina every fall and Joliet, IL every summer. Dollar General is also active in the IZOD IndyCar Series since 2008, serving as the primary sponsor for owner/driver Sarah Fisher's Sarah Fisher Racing team, in 2010 both Sarah Fisher and Graham Rahal drove part time for the team finishing 9th at the Honda Grand Prix of St. Petersburg. Sarah also lead the field at the Peak Antifreeze & Motor Oil Indy 300 at Chicagoland Speedway. In 2011 Dollar General will continue to sponsor Sarah Fisher Racing, the team will still be part time but Ed Carpenter (racing driver) will be driving the car for 9 races this season starting at the 2011 Indianapolis 500 Dollar General created its acronym, the letters "DG" as a brand for "inexpensive" household products sold through the Dollar General stores. DG is also the company's NYSE ticker symbol. In 2010 Dollar General was able to beat the famous Italian Fashion House Dolce and Gabbana that sells very "expensive" fashion products under another "DG" label in the acquisition of the "DG" symbol as the Internet address. The domain "DG.com" was purchased in a private sale from EMC Corporation, the successor to the defunct Data General computer manufacturer in June 2010, making Dollar General the 107th large company in the world to own their initials as a 2-letter Internet address. The DG symbol is used by the company for a variety of in-house products like DG Home, DG Baby, DG Health and DG Body. In March 2010, Dollar General announced that it would become the exclusive distributor for Rexall products. Rexall vitamins and supplements had already started appearing at Dollar General stores with a full line of Rexall products followed by Fall 2010. On January 3, 2011, Dollar General announced plans to add 625 new stores in the 35 states where the chain already has stores plus Connecticut, Nevada and New Hampshire, and to hire 6,000 employees. History from
StockResearch.pro
(Professional Old Stock Certificate Research Service) and
WWI Liberty Bonds Buyer
.