Doris Day and Martin Melcher signed Columbia Pictures Contract dated 1963. Cut upper left corner. Nice signatures.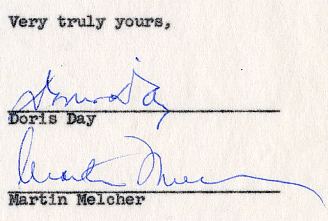 Doris Day and Martin Melcher signatures
Doris Mary Anne von Kappelhoff (born April 3, 1922)[1] is an American singer, actress and animal welfare advocate known as Doris Day. Able to sing, dance and play comedy and dramatic roles, she became one of the biggest box-office stars. Day has 39 films to her credit, over 75 hours of television and as one of the most prolific recording artists in history, has recorded over 650 songs. She is an Academy Award nominee, as well as a Golden Globe and Grammy Award winner. In 1989, Day received the Cecil B. DeMille Award for lifetime achievement in motion pictures. She is currently the top ranking female box-office star of all time according to the annual Quigley Publishing poll's All-Time Number One Stars list, ranking #6 of the top ten of mostly male stars (the only other female on the list is Shirley Temple.) Martin Melcher (August 1, 1915 - April 20, 1968) was an American film producer. With the exception of one movie, all of his projects were starring vehicles for his wife, actress Doris Day. Born in North Adams, Massachusetts, Melcher began his career working as an agent and road manager for The Andrews Sisters and eventually married Patty Andrews on October 19, 1947. The couple divorced on March 30, 1950. Slightly more than a year later, he married Day, and they formed their own production company in 1952. In 1962, Melcher made his only foray into Broadway theatre with The Perfect Setup, a play starring Gene Barry, Angie Dickinson, and Jan Sterling. It closed after five performances [1]. Melcher died of what could have been a ruptured appendix. According to Day's 1976 autobiography, Melcher's physician informed her that Melcher suffered from an enlarged heart. He practiced Christian Science and elected not to seek medical intervention until his condition deteriorated. Shortly after his death, Day discovered Melcher had committed her to a CBS situation comedy, The Doris Day Show, without consulting her, and that not only had he lost the millions she had earned throughout their marriage due to poor investments, but he had left her seriously in debt as well. She sued his business partner Jerome B. Rosenthal and was awarded nearly $23 million for fraud and malpractice following a 99-day trial. Rosenthal declared bankruptcy, and in August 1977 Day settled with his insurers for $6 million that was paid in twenty-three annual installments.