Beautifully engraved specimen stock certificate certificate from the Eastman Kodak Company Company. This historic document was printed by the American Bank Note Company and has an ornate border around it with a vignette of the company logo. This item has the printed signatures of the Company's Chairman of the Board, and Secretary.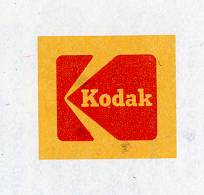 Certificate Vignette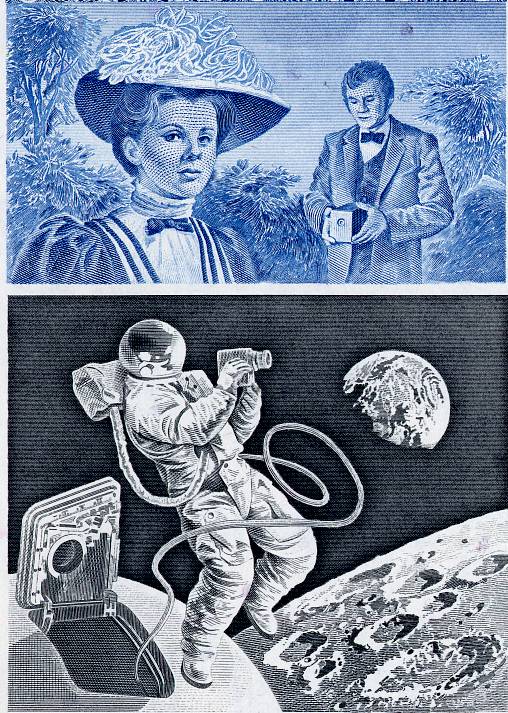 Certificate Vignette
Eastman Kodak's origins rest with Eastman Dry Plate Company, founded by inventor George Eastman and businessman Henry Strong in 1881. The Eastman Dry Plate Company was responsible for the first cameras suitable for nonexpert use, such as the Brownie and Instamatic. The Kodak company attained its name from the first simple roll film cameras produced by Eastman Dry Plate Company, known as the "Kodak" in its product line, this in turn got its name from George Eastman who registered the trademark Kodak on September 4, 1888. The letter "K" had been a favorite of Eastman's, he is quoted in saying, "it seems a strong, incisive sort of letter". He and his mother devised the name Kodak with an anagram set. He said that there were three principal concepts he used in creating the name : it must be short, you can not mispronounce it, and it could not resemble anything or be associated with anything but Kodak. The Kodak company remains the largest supplier of films in the world, both for the amateur and professional markets. It has also diversified into various other imaging-related industries (such as medical imaging), and continues to work at gaining a stronger foothold in the fields of digital photography and imagery. Asked about the name "Kodak", George Eastman replied, "Philologically, the word Kodak is as meaningless as a child's first 'goo'--terse, abrupt to the point of rudeness, literally bitten off by firm and unyielding consonants at both ends, it snaps like a camera shutter in your face. What more would one ask!" David Houston, inventor of many patents bought by George Eastman, lived in North Dakota and may have suggested the word "Nodak" to Eastman. The camera proved such an enormous success that the word Kodak was incorporated into the company name. After losing a patent battle with Polaroid, Kodak left the instant camera business on January 9, 1986. Many of Kodak's earlier digital cameras were designed and built by Chinon, a Japanese camera manufacturer. In 2004, Kodak Japan acquired Chinon and many of their engineers and designers joined Kodak Japan. In July, 2006, Kodak announced that Flextronics would manufacture and help design their digital cameras. On January 13, 2004, Kodak announced it would stop producing traditional film cameras in the United States, Canada and Western Europe. By the end of 2004, Kodak ceased manufacturing cameras that used the Advanced Photo System and 35mm films. Production of film continued. These changes reflect Kodak's new focus on growth in digital markets.
---
About Specimen Certificates
Specimen Certificates are actual certificates that have never been issued. They were usually kept by the printers in their permanent archives as their only example of a particular certificate. Sometimes you will see a hand stamp on the certificate that says "Do not remove from file". Specimens were also used to show prospective clients different types of certificate designs that were available. Specimen certificates are usually much scarcer than issued certificates. In fact, many times they are the only way to get a certificate for a particular company because the issued certificates were redeemed and destroyed. In a few instances, Specimen certificates were made for a company but were never used because a different design was chosen by the company. These certificates are normally stamped "Specimen" or they have small holes spelling the word specimen. Most of the time they don't have a serial number, or they have a serial number of 00000. This is an exciting sector of the hobby that has grown in popularity over the past several years.