Beautiful specimen certificate from the Eastman Chemical Company printed in 1994. This historic document was printed by American Banknote Company and has an ornate block border with a vignette of three men and a globe next to the chemical plant. This item has the signatures of the Company's President and Secretary and is over 25 years old.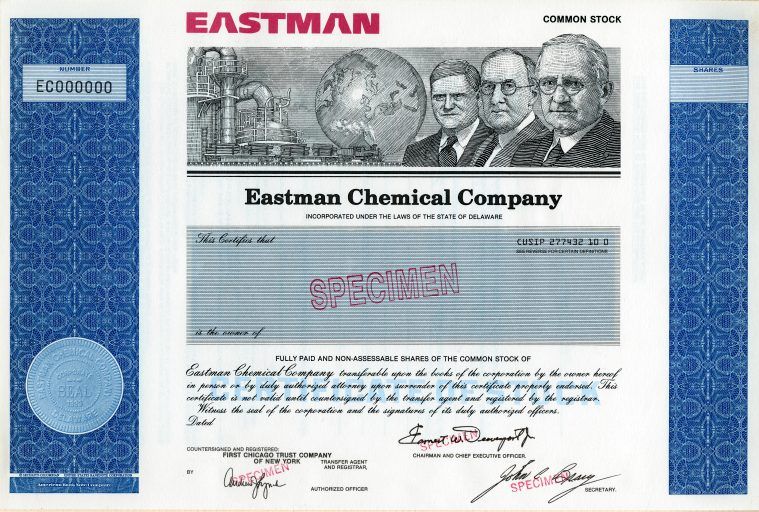 Certificate Vignette
Eastman Chemical Company is a United States based chemical company, engaged in the manufacture and sale of chemicals, plastics and fibers. Eastman has 16 manufacturing sites in 10 countries, supplying its products throughout the world. Founded in 1920 and based in Kingsport, Tennessee, Eastman is a Fortune 500 company with 2006 sales of $7.5 billion, and approximately 11,000 employees. Eastman manufactures and markets chemicals, fibers and plastics worldwide. It provides key differentiated coatings, adhesives and specialty plastics products; is the world's largest producer of PET polymers for packaging; and is a major supplier of cellulose acetate fibers. An effect of World War I was a scarcity in raw materials such as photographic paper, optical glass, gelatin and many chemicals, including methanol, acetic acid and acetone. After the war ended, Eastman Kodak founder George Eastman began working to have an independent supply of chemicals for his photographic processes. His search for suitable quantities of methanol and acetone led him to the southern United States. In 1920, Tennessee Eastman was founded with two major platforms organic chemicals and acetyls. Products such as calcium acetate, sodium acetate, acetic acid and acetic anyhydride became the basis the company's platforms. During World War II, RDX, a powerful explosive, was manufactured for the U.S. government at Holston Ordnance Works at Tennessee Eastman sites. At the peak of production, close to the end of the war, the ordnance plant was producing a million and a half pounds of explosives each day. Eastman introduced acetate tow to the industry in 1952 and remains a leading global manufacturer that sells acetate under the trademark name Estron. Estron is used to produce items such as cigarette filters and ink reservoirs for fiber-tip pens. The product line supporting this filtration material has grown. The most significant product line developed for use with cellulose acetate tow is Estrobond plasticizers, which are used to impart rigidity and hardness to acetate fiber rods. By the late 1960's, Tennessee Eastman was manufacturing a broad array of products that were used in apparels, home furnishings, the automobile industry and other areas. Additional manufacturing facilities were constructed in strategic locations. During the 1970's, Eastman began producing PET plastics, a light-weight, recyclable packaging option. Today, Eastman is the world's largest producer of PET polymers, which are widely used in plastic packaging, including bottles for water, carbonated beverages, and cosmetics. In 1983, Eastman opened the first commercial coal gasification facility in the United States at its Kingsport plant site to produce chemicals from syngas rather than petroleum. Eastman also owns and operates a gasification facility at its Longview, Texas, site to produce syngas from natural gas. Eastman Gasification Services Company, formed in 2003, is a wholly owned subsidiary of Eastman that helps gasification facility owners and developers with facility design and start-up. In 1994, Eastman Chemical Company spun off from Eastman Kodak and became an independent corporation. Since that time, the company has continued to develop and market new products. In early 2005, Eastman broke ground on the first world-scale manufacturing facility using IntegRex, a breakthrough technology that includes numerous innovations that reduce the number of intermediate process steps in producing PET resin. At the Torino 2006 Olympic Games, the 12,000 transparent seats in the new ice hockey stadium were injection-molded using Eastman's high-performance Durastar Copolyester. History from Wikipedia and
OldCompany.com
(old stock certificate research service)
About Specimen Certificates
Specimen Certificates are actual certificates that have never been issued. They were usually kept by the printers in their permanent archives as their only example of a particular certificate. Sometimes you will see a hand stamp on the certificate that says "Do not remove from file". Specimens were also used to show prospective clients different types of certificate designs that were available. Specimen certificates are usually much scarcer than issued certificates. In fact, many times they are the only way to get a certificate for a particular company because the issued certificates were redeemed and destroyed. In a few instances, Specimen certificates were made for a company but were never used because a different design was chosen by the company. These certificates are normally stamped "Specimen" or they have small holes spelling the word specimen. Most of the time they don't have a serial number, or they have a serial number of 00000. This is an exciting sector of the hobby that has grown in popularity over the past several years.