Beautiful certificate from the Eastman Kodak Company. This historic document was printed by the Data Business Forms Company and has an ornate border around it with the company title centered on the top. This item has the printed signatures of the Company's Chairman & Chief Executive Officer, and Treasurer.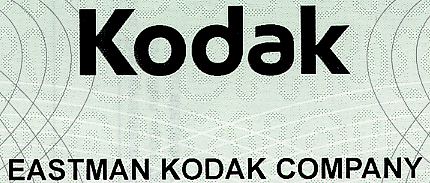 Certificate Vignette
Eastman Kodak Company (NYSE: EK) is an American multinational public company producing photographic materials and equipment. Long known for its wide range of photographic film products, Kodak has focused in recent years on three main businesses: digital photography, health imaging, and printing. Kodak Beau Brownie designed by Walter Dorwin Teague.Eastman Kodak's origins rest with Eastman Dry Plate Company, founded by inventor George Eastman and businessman Henry Strong in 1881. The Eastman Dry Plate Company was responsible for the first cameras suitable for nonexpert use, such as the Brownie and Instamatic. The Kodak company attained its name from the first simple roll film cameras produced by Eastman Dry Plate Company, known as the "Kodak" in its product line, this in turn got its name from George Eastman who registered the trademark Kodak on September 4, 1888. The letter "K" had been a favorite of Eastman's, he is quoted in saying, "it seems a strong, incisive sort of letter".[1] He and his mother devised the name Kodak with an anagram set. He said that there were three principal concepts he used in creating the name : it must be short, you can not mispronounce it, and it could not resemble anything or be associated with anything but Kodak.[2] The Kodak company remains the largest supplier of films in the world, both for the amateur and professional markets. It has also diversified into various other imaging-related industries (such as medical imaging), and continues to work at gaining a stronger foothold in the fields of digital photography and imagery. Asked about the name "Kodak", George Eastman replied, "Philologically, the word Kodak is as meaningless as a child's first 'goo'--terse, abrupt to the point of rudeness, literally bitten off by firm and unyielding consonants at both ends, it snaps like a camera shutter in your face. What more would one ask!" David Houston, inventor of many patents bought by George Eastman, lived in North Dakota and may have suggested the word "Nodak" to Eastman. The camera proved such an enormous success that the word Kodak was incorporated into the company name. After losing a patent battle with Polaroid, Kodak left the instant camera business on January 9, 1986.[3] Many of Kodak's earlier digital cameras were designed and built by Chinon, a Japanese camera manufacturer. In 2004, Kodak Japan acquired Chinon and many of their engineers and designers joined Kodak Japan. In July, 2006, Kodak announced that Flextronics would manufacture and help design their digital cameras. As part of its move toward higher end products, Kodak announced in September 15, 2006 that the new M8 camera from German manufacter Leica will incorporate Kodak's KAF-10500 image sensor.[4] This is the second recent partnership between the two companies. On January 13, 2004, Kodak announced it would stop producing traditional film cameras in the United States, Canada and Western Europe. By the end of 2004, Kodak ceased manufacturing cameras that used the Advanced Photo System and 35mm films. Production of film continued. These changes reflect Kodak's new focus on growth in digital markets. In an effort to reduce costs, Kodak accompanied its shift toward digital products with a series of layoffs and facility closures, cutting 12,000-15,000 jobs around the world, a 20-25 percent reduction in its workforce.[5] Kodak owns the Visual Effects Film Post Production Facilities "Cinesite" in L.A. and London as well as LaserPacific, a post-production facility in Hollywood. Kodak also owns Pro-Tek Media Preservation Services in Burbank, CA. Pro-Tek is the world's premier film storage vault. On January 6, 2006, Kodak introduced a new corporate logo.[6]. On February 6, 2007, Kodak introduced a new line of inkjet printers with low cost consumables.[7].[8] The company is headquartered in Rochester, New York, USA. The Kodak company holds a vital role in the invention and development of the motion picture industry. Thomas Edison used film stock manufactured by Eastman Kodak during his development of the Kinetoscope.[9]. Many modern Cinema and TV productions (US and worldwide) are shot on Kodak film stocks, including all Oscar-winning pictures.[10] The company helped set the standard of 35mm film, and introduced the 16mm film format for amateur use and lower budget productions. The home market-oriented 8mm and Super 8 formats were also developed by Kodak. Kodak also entered the Professional Video Tape market, briefly in the mid 1980's, under the product portfolio name of Eastman Professional Video Tape Products. In 1990, Kodak launched a Worldwide Student Program working with university faculty throughout the world to help nurture the future generation of filmmakers. Kodak formed Educational Advisory Councils in the US, Europe and Asia made up of Deans and Chairs of some of the most prestigious film schools throughout the world to help guide the development of their program. It has been called one of the most farsighted programs of its kind by an industry leader. History from Wikipedia and OldCompanyResearch.com.