Beautifully engraved specimen certificate from the Dow Chemical Company printed in 1978. This historic document was printed by the American Banknote Company and has an ornate border around it with a vignette of two allegorical men in front of an early company facility. This item has the printed signatures of the Company's officers. Light residue on front.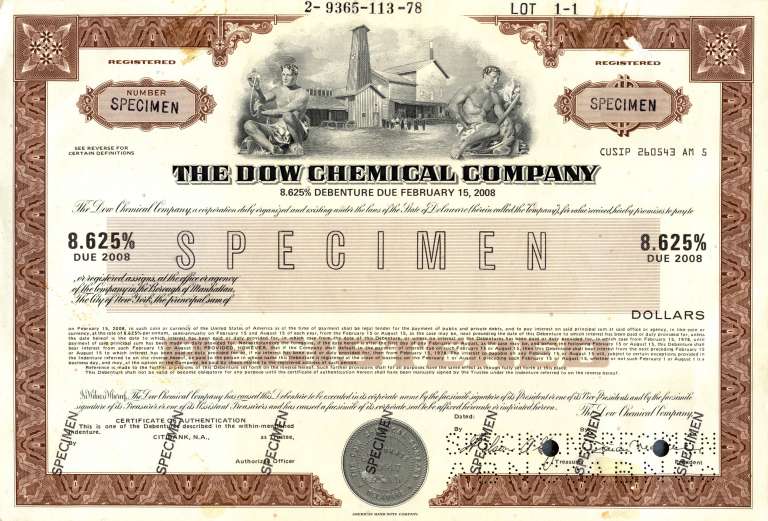 Certificate
The Dow Chemical Company, commonly referred to as Dow, is an American multinational chemical corporation headquartered in Midland, Michigan, United States. As of 2007, it is the second-largest chemical manufacturer in the world by revenue (after BASF) and as of February 2009, the third-largest chemical company in the world by market capitalization (after BASF and DuPont). Dow manufactures plastics, chemicals, and agricultural products. With a presence in about 160 countries, it employs about 54,000 people worldwide. Its stated mission, under the current CEO, Andrew N. Liveris, is: "To passionately innovate what is essential to human progress by providing sustainable solutions to our customers" with the vision: "To be the most profitable and respected science-driven chemical company in the world", and the values: "Integrity, Respect for People, and Protecting our Planet". Annual R&D spending exceeds $1 billion. The company has seven different major operating segments, with a wide variety of products made by each one. Dow's 2012 sales totaled approximately $57 billion. Dow has been called the "chemical companies' chemical company" in that most of its sales are to other industries rather than end-users. Dow sells directly to end-users primarily in the human and animal health and consumer products markets. Dow is a member of the American Chemistry Council. History from Wikipedia and
OldCompany.com
(old stock certificate research service)
About Specimen Certificates
Specimen Certificates are actual certificates that have never been issued. They were usually kept by the printers in their permanent archives as their only example of a particular certificate. Sometimes you will see a hand stamp on the certificate that says "Do not remove from file". Specimens were also used to show prospective clients different types of certificate designs that were available. Specimen certificates are usually much scarcer than issued certificates. In fact, many times they are the only way to get a certificate for a particular company because the issued certificates were redeemed and destroyed. In a few instances, Specimen certificates were made for a company but were never used because a different design was chosen by the company. These certificates are normally stamped "Specimen" or they have small holes spelling the word specimen. Most of the time they don't have a serial number, or they have a serial number of 00000. This is an exciting sector of the hobby that has grown in popularity over the past several years.