Beautiful specimen stock certificate from Dow Jones & Company, Inc. printed in 1989. This historic document was printed by the American Banknote Company and has an ornate border around it with a vignette of an allegorical woman holding a globe with a city in the background. This item has the printed signatures of the Company's President, and Treasurer.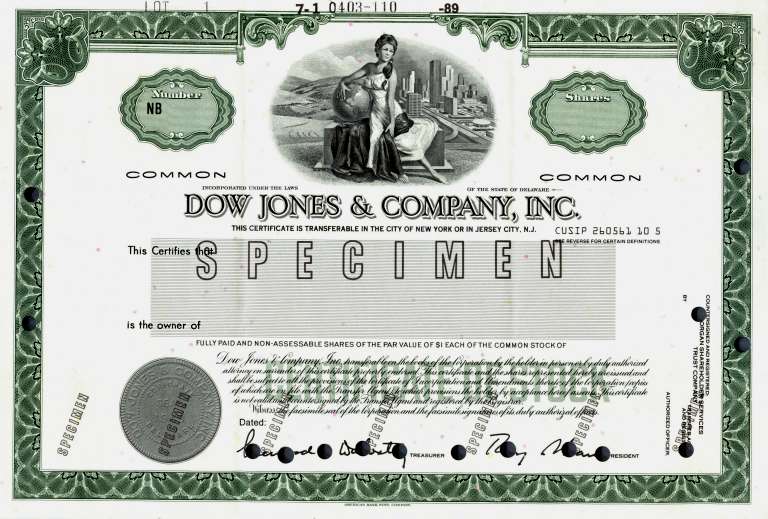 Certificate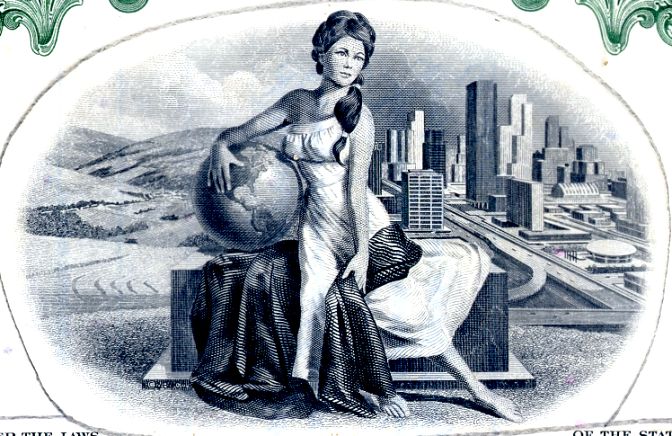 Certificate Vignette
Dow Jones & Company is an American publishing and financial information firm. The company was founded in 1882 by three reporters: Charles Dow, Edward Jones, and Charles Bergstresser. Like The New York Times and the Washington Post, the company was in recent years publicly traded but privately controlled. The company was led by the Bancroft family, which effectively controlled 64% of all voting stock, before being acquired by News Corporation. The company became a subsidiary of News Corporation after an extended takeover bid during 2007. It was reported on August 1, 2007 that the bid had been successful after an extended period of uncertainty about shareholder agreement. The transaction was completed on December 13, 2007. It was worth US$5 billion or $60 a share, giving NewsCorp control of The Wall Street Journal and ending the Bancroft family's 105 years of ownership. In 2010, the company sold 90% of Dow Jones Indexes to the CME Group, including the Dow Jones Industrial Average. History from Wikipedia and
OldCompany.com
(old stock certificate research service)
---
About Specimen Certificates
Specimen Certificates are actual certificates that have never been issued. They were usually kept by the printers in their permanent archives as their only example of a particular certificate. Sometimes you will see a hand stamp on the certificate that says "Do not remove from file". Specimens were also used to show prospective clients different types of certificate designs that were available. Specimen certificates are usually much scarcer than issued certificates. In fact, many times they are the only way to get a certificate for a particular company because the issued certificates were redeemed and destroyed. In a few instances, Specimen certificates were made for a company but were never used because a different design was chosen by the company. These certificates are normally stamped "Specimen" or they have small holes spelling the word specimen. Most of the time they don't have a serial number, or they have a serial number of 00000. This is an exciting sector of the hobby that has grown in popularity over the past several years.