Beautifully engraved SPECIMEN certificate from the Electronic Arts printed in 1989. This historic document was printed by the Security-Columbian Banknote Company and has an ornate border around it with a vignette of the company logo. This item has the printed signatures of the Company's Chairman and Secretary.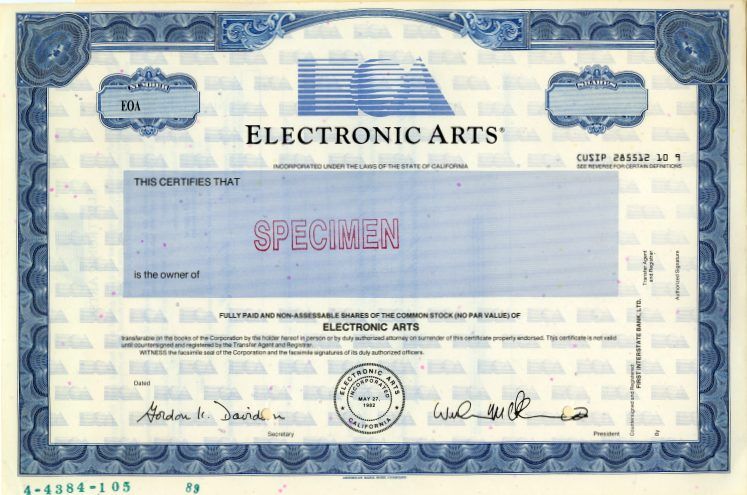 Certificate
Electronic Arts Inc. (EA) is an American video game company headquartered in Redwood City, California. It is the second-largest gaming company in the Americas and Europe by revenue and market capitalization after Activision Blizzard and ahead of Take-Two Interactive and Ubisoft as of March 2018. Founded and incorporated on May 27, 1982, by Apple employee Trip Hawkins, the company was a pioneer of the early home computer games industry and was notable for promoting the designers and programmers responsible for its games. EA published numerous games and productivity software for personal computers and later experimented on techniques to internally develop games, leading to the 1987 release of Skate or Die!. The company would later decide in favor of abandoning their original principles and acquiring smaller companies that they see profitable, as well as annually releasing franchises to stay profitable. Currently, EA develops and publishes games including EA Sports titles FIFA, Madden NFL, NHL, NBA Live, and UFC. Other EA established franchises includes Battlefield, Need for Speed, The Sims, Medal of Honor, Command & Conquer, as well as newer franchises such as Dead Space, Mass Effect, Dragon Age, Army of Two, Titanfall and Star Wars: The Old Republic. Their desktop titles appear on self-developed Origin, an online gaming digital distribution platform for PCs and a direct competitor to Valve's Steam. EA also owns and operates major gaming studios, EA Tiburon in Orlando, EA Vancouver in Burnaby, BioWare in Edmonton as well as Austin, and DICE in Sweden and Los Angeles.
---
About Specimens
Specimen Certificates are actual certificates that have never been issued. They were usually kept by the printers in their permanent archives as their only example of a particular certificate. Sometimes you will see a hand stamp on the certificate that says "Do not remove from file". Specimens were also used to show prospective clients different types of certificate designs that were available. Specimen certificates are usually much scarcer than issued certificates. In fact, many times they are the only way to get a certificate for a particular company because the issued certificates were redeemed and destroyed. In a few instances, Specimen certificates we made for a company but were never used because a different design was chosen by the company. These certificates are normally stamped "Specimen" or they have small holes spelling the word specimen. Most of the time they don't have a serial number, or they have a serial number of 00000. This is an exciting sector of the hobby that grown in popularity and realized nice appreciation in value over the past several years.