Beautifully engraved specimen certificate from the Fairbanks, Morse & Co. printed in the 1920's. This historic document was printed by the American Banknote Company and has an ornate border around it with a vignette of allegorical figures.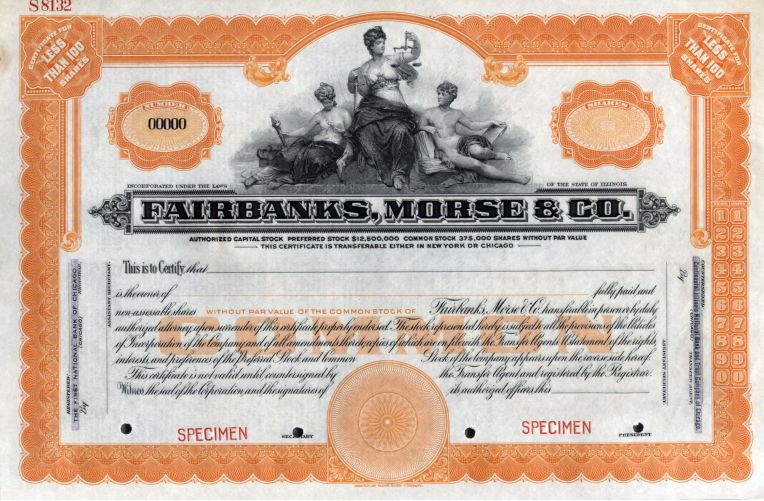 Certificate
Fairbanks Morse and Company was an American manufacturing company in the late 19th and early 20th century. Originally a weighing scale manufacturer, it later diversified into pumps, engines, windmills, coffee grinders, farm tractors, feed mills, locomotives and industrial supplies until it was merged in 1958. It used the trade name Fairbanks-Morse. There are three separate corporate entities that could be considered successors to the company, none of which represent a complete and direct descendant of the original company. All claim the heritage of the Fairbanks Morse and Company: Fairbanks Scales is a privately owned company in Kansas City, Missouri, that manufactures the scales. Fairbanks Morse Engine (FME), a subsidiary of EnPro Industries, is a company based in Beloit, Wisconsin, that manufactures and services engines. Fairbanks Morse Pumps is a part of Pentair Water in Kansas City, Kansas, and manufactures pumps. History from Wikipedia, Encyberpedia and
OldCompany.com
(old stock certificate research service)
About Specimen Certificates
Specimen Certificates are actual certificates that have never been issued. They were usually kept by the printers in their permanent archives as their only example of a particular certificate. Sometimes you will see a hand stamp on the certificate that says "Do not remove from file". Specimens were also used to show prospective clients different types of certificate designs that were available. Specimen certificates are usually much scarcer than issued certificates. In fact, many times they are the only way to get a certificate for a particular company because the issued certificates were redeemed and destroyed. In a few instances, Specimen certificates were made for a company but were never used because a different design was chosen by the company. These certificates are normally stamped "Specimen" or they have small holes spelling the word specimen. Most of the time they don't have a serial number, or they have a serial number of 00000.