Beautiful specimen certificate from Frontier Airlines, Inc printed in the 1950's. This historic document was printed by the Security Banknote Company and has an ornate border around it with a vignette of an eagle.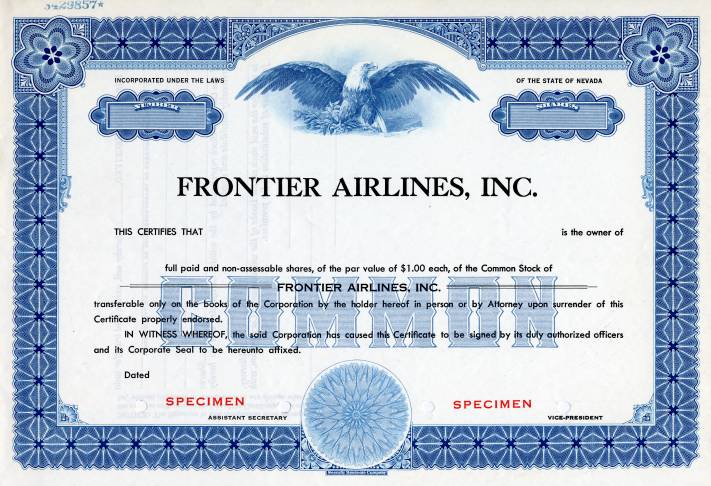 Certificate
Frontier Airlines was incorporated on March 20, 1950 in Nevada and headquartered in Denver, Colorado. The company acquired the three feeder carriers - Arizona Airways, Challenger Airlines and Monarch Airlines. Monarch began service over routes in Colorado, Utah, New Mexico, and Arizona. Frontier carried 87 million passengers over the years and was nationally recognized for both the quality of its service and its outstanding safety record. In 1986, the company was purchased by New Jersey-based People Express.
About Specimen Certificates
Specimen Certificates are actual certificates that have never been issued. They were usually kept by the printers in their permanent archives as their only example of a particular certificate. Sometimes you will see a hand stamp on the certificate that says "Do not remove from file". Specimens were also used to show prospective clients different types of certificate designs that were available. Specimen certificates are usually much scarcer than issued certificates. In fact, many times they are the only way to get a certificate for a particular company because the issued certificates were redeemed and destroyed. In a few instances, Specimen certificates were made for a company but were never used because a different design was chosen by the company. These certificates are normally stamped "Specimen" or they have small holes spelling the word specimen. Most of the time they don't have a serial number, or they have a serial number of 00000.