Beautiful RARE specimen certificate from the Shearson Hayden Stone Inc. printed in 1975. This historic document was printed by the Security - Columbian Company and has an ornate border around it with a vignette of an eagle. This item has the printed signatures of the Company's Chairman of the Board, Sanford I. "Sandy" Weill and Secretary. There is a transitional stamp in red on the face that says" Name changed to Shearson Loeb Rhodes, Inc."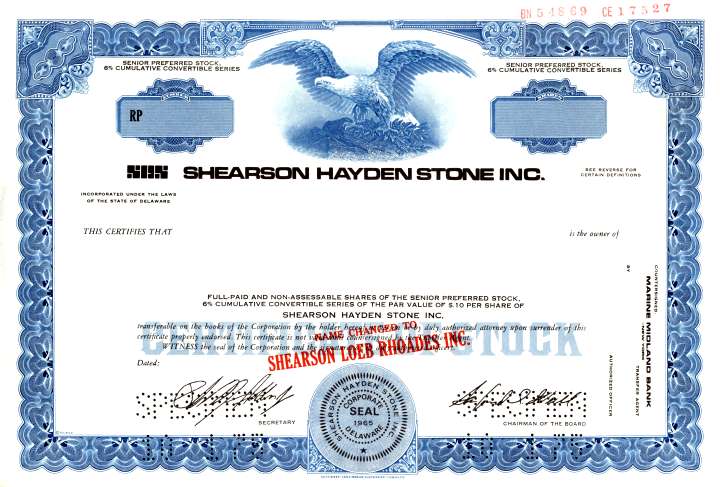 Certificate
Sanford I. "Sandy" Weill (born March 16 1933) is an American banker, financier and philanthropist. He is a former chief executive officer and chairman of Citigroup Inc. He served in those positions until October 1, 2003 and April 18, 2006 respectively. Hayden, Stone & Co. was a major securities firm founded in 1892 by Charles Hayden and Galen L. Stone. The firm was acquired by Cogan, Berlind, Weill & Levitt in 1972 and was part of what ultimately would become Shearson/American Express in 1981. In 1892, Clark, Ward, & Co. clerks Charles Hayden (later the benefactor of the Hayden Planetarium) and Galen L. Stone opened a new brokerage house, Hayden, Stone & Co. While Stone was known for remaining silent, Hayden gained a reputation for quick decisions and mastery of the brokerage business. Foreseeing the needs of electrification, Hayden made his fortune by investing in copper mining. The new investment firm prospered, expanding from its Boston base to open a New York City branch in 1906. In 1970, the prestigious Hayden, Stone found itself in financial trouble along with many other large securities firms. Hayden, Stone was acquired by Cogan, Berlind, Weill & Levitt (often jokingly referred to as Corned Beef With Lettuce), whose partners included Sandy Weill and Arthur Levitt, and renamed itself CBWL-Hayden, Stone, dropping the CBWL from the name just two years later, allowing Weill to rid himself of the Corned Beef With Lettuce moniker. The new Hayden Stone, Inc. then completed possibly its most significant acqusition to that point, merging with Shearson, Hammill & Co.. Once again, Weill chose to adopted the target's branding to become Shearson Hayden Stone. The Hayden Stone name was finally abandoned in 1979, following the acquisition of Loeb, Rhoades, Hornblower & Co. to form Shearson Loeb Rhoades. Just two years later, in 1981, Weill sold the combined company to American Express to form Shearson/American Express. At one point, the firm was considered to be the third largest "wire-house" in the country behind only Merrill Lynch and Bache & Co.. History from Wikipedia and OldCompany.com (old stock certificate research service).
---
About Specimen Certificates
Specimen Certificates are actual certificates that have never been issued. They were usually kept by the printers in their permanent archives as their only example of a particular certificate. Sometimes you will see a hand stamp on the certificate that says "Do not remove from file". Specimens were also used to show prospective clients different types of certificate designs that were available. Specimen certificates are usually much scarcer than issued certificates. In fact, many times they are the only way to get a certificate for a particular company because the issued certificates were redeemed and destroyed. In a few instances, Specimen certificates were made for a company but were never used because a different design was chosen by the company. These certificates are normally stamped "Specimen" or they have small holes spelling the word specimen. Most of the time they don't have a serial number, or they have a serial number of 00000. This is an exciting sector of the hobby that has grown in popularity over the past several years.