Beautifully engraved RARE specimen certificate from Shearson Lehman/American Express Inc. printed in 1984. This historic document was printed by the Security Columbian United States Banknote Corporation and has an ornate border around it with a vignette of an allegorical woman. This item is over 33 years old. This item is has the printed signature of the Company's Chairman, Sanford I. Weill.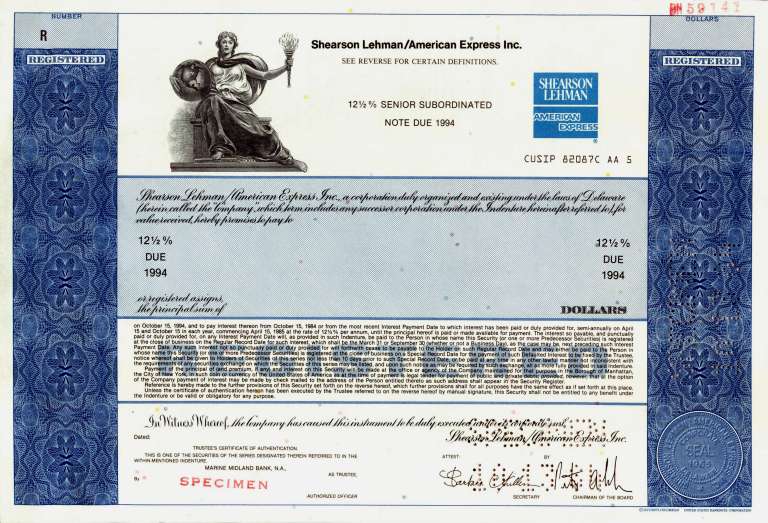 Certificate Vignette
During the 1980s, American Express embarked on an effort to become a financial services supercompany. In mid-1981 it purchased Sanford I. Weill's Shearson Loeb Rhoades, the second largest securities firm in the United States to form Shearson/American Express. Shearson Loeb Rhoades, itself was the culmination of several mergers in the 1970s as Weill's Hayden Stone, Inc. merged with Shearson, Hammill & Co. in 1974 to form Shearson Hayden Stone. Shearson Hayden Stone then merged with Loeb, Rhoades, Hornblower & Co. (formerly Loeb, Rhoades & Co. and Hornblower & Weeks) to form Shearson Loeb Rhoades in 1979. With capital totalling $250 million at the time of its acquisition, Shearson Loeb Rhoades trailed only Merrill Lynch as the securities brokerage industry's largest firm. After its acquisition by American Express, the firm was renamed Shearson/American Express. After selling Shearson to American Express, Weill was given the position of president of American Express in 1983. The following year, Weill was named chairman and CEO of American Express's insurance subsidiary, Fireman's Fund Insurance Company. Weill grew increasingly unhappy with responsibilities within American Express and his conflicts with American Express' CEO James D. Robinson III. Weill soon realized that he was not positioned to be named CEO and after the firm's merger with Lehman Brothers Kuhn Loeb, Weill chose to resign from American Express in August 1985. Weill would return to building a large financial services company of his own, which would become Citigroup and would go on to acquire the core Shearson brokerage business that he had built in the 1960s and 1970s. History from Wikipedia and
OldCompany.com
(old stock certificate research service)
---
About Specimen Certificates
Specimen Certificates are actual certificates that have never been issued. They were usually kept by the printers in their permanent archives as their only example of a particular certificate. Sometimes you will see a hand stamp on the certificate that says "Do not remove from file". Specimens were also used to show prospective clients different types of certificate designs that were available. Specimen certificates are usually much scarcer than issued certificates. In fact, many times they are the only way to get a certificate for a particular company because the issued certificates were redeemed and destroyed. In a few instances, Specimen certificates were made for a company but were never used because a different design was chosen by the company. These certificates are normally stamped "Specimen" or they have small holes spelling the word specimen. Most of the time they don't have a serial number, or they have a serial number of 00000. This is an exciting sector of the hobby that has grown in popularity over the past several years.