We are offering this historic and beautifully engraved Bond Certificate issued byGeorgia Pacific Corporation in the 1970's for $25,000. This cancelled document has an ornate green side block with a vignette of the statue of liberty celebrating the Country's bicentennial.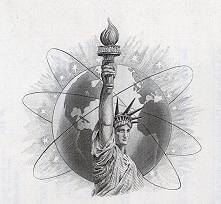 Certificate Vignette
GP is of the world's leading manufacturers and distributors of building products and leading producer of pulp and paper, with operating facilities in more than 300 locations in the United States and Canada. Their Timberland Holdings owns approximately 5.4 million acres of timberland in the United States and Canada and manages an additional 400,000 acres under long-term lease. Timberlands are located in three regions: The South, consisting of 3.9 million acres of primarily pine forests, spanning 11 U.S. states. The West, consisting of 500,000 acres of primarily Douglas fir and second growth redwood forests in Oregon and California. The North, consisting of 1.4 million acres of hardwood and conifer forests in the northern United States and New Brunswick, Canada.