Beautiful certificate from the Goldfield Big Bonanza Mining and Milling Company issued in 1905. This historic document has an ornate border around it with a vignette of an angelic woman holding up a torch with a man and woman on each side of her. The man holds a hammer and is sitting on an anvil with an eagle next to him. The woman has a scythe with a shield with the American flag on it with a cornucopia next to her. This item has the signatures of the Company's President, and Secretary, and is over 104 years old. Light staining.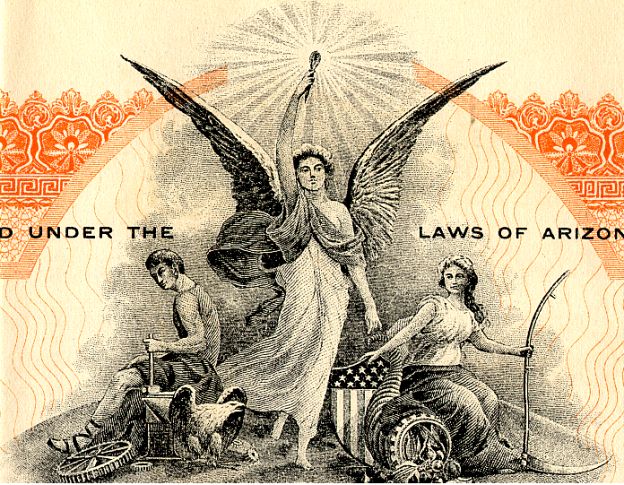 Certificate Vignette
The Mines Directory Vol. 1 - 1910 GOLDFIELD BIG BONANZA MINING & MILLING CO. Located in Goldfield and Bullfrog districts, Nevada. About 150 acres in all. Incorporated 1905, Arizona laws; capitalized at $2,000,000--2,000,000 shares, par $1. Non-assessable. About half of the stock issued. No development worth mentioning. Officers: G. W. Perkins, President; W. B. Boardman, VicePresident; and J. H. Pape, Secretary and Treasurer. Main office, Hagerman Bldg., Colorado Springs, Colorado.