Old golf hat hand signed by Sam Snead, Roberto DeVicenzo, Buck White, Chick Harbert, and others from the Club de Golf de Panama tournament. This hat was signed during the Panama Open in 1974 and is over 34 years old.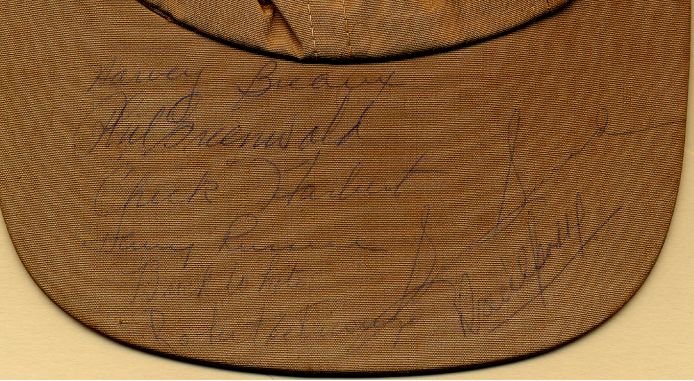 Signatures on Golf Hat
The Panama Open was a golf tournament played from 1938 to 1982. The name was revived for a one-off event on the European Challenge Tour in 2004 (2005 season).
---
Samuel Jackson "Sam" Snead (May 27, 1912 May 23, 2002) was an American golfer who was one of the top players in the world for most of 4 decades. He and two others of the greatest golfers of all time, Ben Hogan and Byron Nelson, were born within 6 months of each other in 1912. He won a record 82 PGA Tour events and about 70 others worldwide. He won seven majors: three Masters, three PGA Championships and one British Open. In spite of his great achievements, his reputation has always been slightly tainted by his failure to win a U.S. Open. Snead shares the record for most second-place finishes in that championship (4) with four others; Bobby Jones, Arnold Palmer, Jack Nicklaus, and Phil Mickelson. Snead was famed for his folksy image, wearing a straw hat and playing tournaments barefoot, and making such statements as "Keep close count of your nickels and dimes, stay away from whiskey, and never concede a putt."[1] His nickname was "Slammin' Sammy." He has also been admired by many for having the so-called "perfect swing", and generated many imitators. Snead was born in Ashwood, Virginia near Hot Springs, Virginia. At the age of seven he began caddying at The Homestead in Hot Springs; he worked as an assistant pro at The Homestead at 19, and became a professional in 1934. Snead maintained ties to Hot Springs and The Homestead for all of his life; he died in Hot Springs following complications from a stroke four days short of his 90th birthday. He was survived by two sons, Sam Jr., of Hot Springs, Virginia and Terry, of Mountain Grove, Virginia; a brother, Pete, of Pittsburgh; and two grandchildren. His wife, Audrey, died in 1990. His nephew J. C. Snead was also a PGA Tour golfer. Snead won the PGA Tour Lifetime Achievement Award in 1998, and has been inducted into the World Golf Hall of Fame in 1974.
---
Roberto DeVicenzo (born April 14, 1923) is a former professional golfer. DeVicenzo was born in Buenos Aires, Argentina. He won 230 tournaments worldwide in his career (according to the World Golf Hall of Fame), including six on the PGA Tour and the 1967 British Open. He is best remembered for his misfortune in the 1968 Masters. On the par 4 seventeenth hole, Roberto DeVicenzo made a birdie, but playing partner Tommy Aaron inadvertently entered a 4 instead of 3 on the scorecard. DeVicenzo did not check the scorecard for the error before signing it, and according to the Rules of Golf the higher score had to stand and be counted. If not for this mistake, DeVicenzo would have tied for first place with Bob Goalby, and the two would have met in an 18-hole playoff the next day. His quote afterwards became famous for its simplicity: "What a stupid I am!" In 1970, he was voted the Bob Jones Award, the highest honor given by the United States Golf Association in recognition of distinguished sportsmanship in golf. DeVicenzo subsequently found great success in the early days of the Senior PGA Tour, winning the Liberty Mutual Legends of Golf two times and the inaugural U.S. Senior Open in 1980. Also won the 1974 PGA Seniors' Championship, and represented Argentina 17 times in the Canada Cup/World Cup (leading Argentina to victory in 1953). DeVicenzo was inducted into the World Golf Hall of Fame in 1989, and officially retired on November 12, 2006 at age 83.
---
Melvin R. "Chick" Harbert (February 20, 1915 September 1, 1992) was an American golfer. He won seven times on the PGA Tour including one major championship, the 1954 PGA Championship. He was also PGA championship runner-up in 1947 and 1952. He played on the 1949 Ryder Cup team and was playing-captain of the team in 1955. He served in the Army during World War II. He was born in Dayton, Ohio and died in Ocala, Florida. History from Wikipedia and OldCompanyResearch.com (old stock certificate research service).