Beautiful certificate from the Granville Gold Company of New York issued in 1880. This historic document was printed by Maverick & Wissinger Company and has an ornate border around it with a vignette of four miners working a claim with a mule grazing and jagged peaks in background. This item has the signatures of the Company's President, William Brandreth and Secretary, Edwin H. Mulford and is over 129 years old.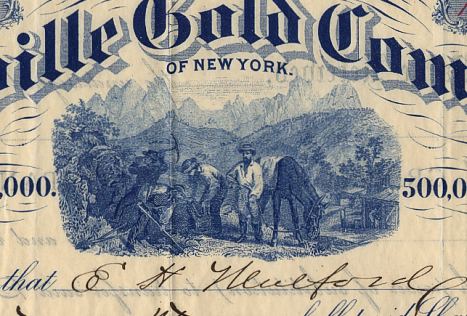 Certificate Vignette
According to the United States Annual Mining Review and Stock Ledger in 1879: GRANVILLE GOLD COMPANY. STANLY AND M'DOWELL COUNTIES, NORTH CAROLINA. Incorporated under the Laws of New York. Office of Company, No. 23 Dey Street, New York. F. A. White. President; William Brandreth, Vice President; Gen. Jno. E. Mulford, Treasurer: Edwin H. Mulford, Secretary: R. M. Eames, M. E., Consulting Engineer; Thaddeus Judson, Superintendent. Capital Stock, $300.000, divided into 300,000 unassessable Shares of par value of $1 each. One mine is situated in Stanly County, North Carolina, twenty-three miles south-east from Salisbury, and twelve miles from Albemarle, the county seat of Stanly, and on the bank of the Tadkin River, and is a combined placer and quartz property, seven good veins having been opened, and several hundred acres of good placer ground having been prospected, yielding nuggets of gold of three pounds weight and under. The other mine is in McDowell County. North Carolina, twelve miles south from Marion Court House on Muddy creek, between Brindle Mountain and the Huntsville range, and consists of 1250 acres of valuable quartz and placer ground, and the ownership of about loco inches of water, miners measure. The ore so far worked from these mines has yielded by mill process from $15 to $70 per ton; some one has assayed as high as $600 per ton of 2000 pounds. The Mint first recorded the mining of gold in North Carolina in 1804. The Granville mine was located two miles southeast of Vein Mountain, McDowell County, North Carolina. (Ref: Burchard, 1882 Report of the Director of the Mint..., p467.) 7 x 11. Balch (1882, p. 1142) reports the mine was a placer deposit in gravels that were mined hydraulically. The company had ditches twenty miles long and a sixty foot head of water.