Beautiful certificate from the Greenback Mining Company issued in 1923. This historic document was printed by the Goes Company and has an ornate border around it with a vignette of an eagle. This item has the signatures of the Company's President, H. G. Humphrey and Secretary, H. J. Wilkens and is over 86 years old. Issued to E. H. McMurray and signed by him on verso.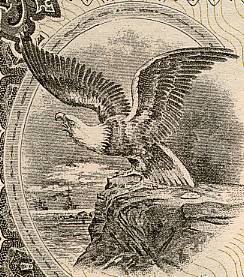 Certificate Vignette
The Greenback Mining Company owned 12 claims located 41 miles southwest of Casa Grande. The ore was said to assay at $12 gold per ton. There were several tunnels extending from the 125 foot deep Greenback shaft. Property was considered promising. All property and assets were sold to the Iron Silver MC in 1923. (Mines Handbook, 1925, p.325).