Beautiful RARE specimen certificate from the Hollywood - Burbank Airport Authority series of 1978. This historic document was printed by the Security - Columbian Company and has an ornate border around it with a vignette of an eagle. This item has the printed signatures of the Commission's President.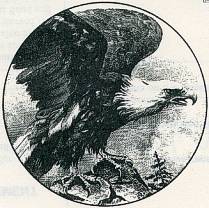 Certificate Vignette
The Burbank-Glendale-Pasadena Airport Authority is a separate government agency created under a joint powers agreement between the three cities of Burbank, Glendale and Pasadena in 1977 for the sole purpose of owning and operating the Bob Hope Airport. The Authority consists of nine commissioners, three from each city. The commissioners from each city are appointed by their city council. Bob Hope Airport is a public airport located three miles (5 km) northwest of the central business district of Burbank, a city in Los Angeles County, California, United States. It was formerly known as Angeles Mesa Drive Airport (19281930), United Airport (19301934), Union Air Terminal (19341940), Lockheed Air Terminal (19401967), Hollywood-Burbank Airport (19671978) and most recently Burbank-Glendale-Pasadena Airport (19782003). The airport serves the Los Angeles area including Glendale, Pasadena, and the San Fernando Valley. It is also closer to Griffith Park and Hollywood than is Los Angeles International Airport, and is the only airport in the greater Los Angeles area with a direct rail connection to downtown Los Angeles. Non-stop flights from the airport go mostly to destinations within the western United States but service also includes Dallas/Fort Worth and New York City. The airport covers 610 acres (2.5 km²) and has two runways. The west end of Runway 8/26 and the north end of Runway 15/33 actually stretch into the City of Los Angeles. The airport is owned and operated by the Burbank-Glendale-Pasadena Airport Authority, which is controlled by the governments of the three cities in its name. The airport maintains its own police department (Burbank-Glendale-Pasadena Airport Authority Police), separate from the Burbank Police Department. The department is made of 34 sworn officers, five Sergeants, two Commanders, and the Chief of Police along with 8 dispatchers and a lost and found specialist. BUR has public Wi-Fi provided by both AT&T and T-Mobile. Boarding uses airstairs or ramps rather than jet bridges, unlike most major airports. Boeing Aircraft and Transport (BA&T) was a holding company created in 1928 that included Boeing Aircraft and United Air Lines, itself a holding company for a collection of small airlines that continued to operate under their own names. One of these airlines was Pacific Air Transport (PAT), which Boeing had acquired because of PAT's west coast mail contract in January, 1928. BA&T then sought a suitable site for a new airport for PAT, and found one in Burbank. BA&T had the benefit of surveys that the Aeronautics Department of the Los Angeles Chamber of Commerce had conducted starting in 1926 to identify potential airport sites. It took BA&T a year and the cooperation of the City of Burbank to assemble the desired site from different parcels. The 234-acre (0.95 km2) site was rife with vines and trees, which had to be removed, and the ground had to be filled and levelled. But these negative features were offset by good drainage, a firm landing surface, steady winds, and good access to ground transport. Construction was completed in just seven months. In an age when few aircraft had brakes and many had a tail skid instead of a wheel, runways were not usually paved; those at Burbank consisted in a five-inch thick mixture of oil and sand. Initially there were no taxi strips, but the designers left room for them. Two of the runways were over 3,600 feet long; a third was 2,900 feet; all were 300 feet wide. These were generous dimensions by the standards of the day, and the site had ample room for later expansion. Appropriately named United Airport, the new facility was dedicated amid much festivity (including an air show) on Memorial Day Weekend (May 30 - June 1), 1930. Burbank's United Airport and its handsome Spanish revival terminal quickly proved to be a state-of-the-art facility and a showy new competitor to the nearby Grand Central Airport in neighboring Glendale, which was at that time considered to be Los Angeles' main air terminal. The new Burbank facility was actually the largest commercial airport in the Los Angeles region until it was eclipsed in 1946 by the Los Angeles Airport in Westchester when that facility (formerly Mines Field, then Los Angeles Municipal Airport) commenced scheduled commercial operations. The Burbank facility remained named United Airport until 1934, when it was renamed Union Air Terminal. The name change came the same year that Federal anti-trust actions caused United Aircraft And Transport Corp. to dissolve, which took effect September 26, 1934. The Union Air Terminal moniker stuck for six years, until Lockheed bought the airport in 1940. Lockheed immediately renamed the property the Lockheed Air Terminal. Commercial air traffic continued even while Lockheed's extensive aircraft-manufacturing facilities at the airport supplied the war effort and developed numerous military and commercial aircraft in the ensuing war years and into the mid-1960s. In 1966, the airport was dealt a temporary setback when, at 3:30 p.m. on Sunday, February 13, a fire broke out in a greasy flue in the kitchen of the terminal building's second-floor restaurant, The Sky Room. The blaze, fanned by gusty winds, spread throughout the terminal building and also consumed the attached control tower. Controllers in the tower at the time of the fire were able to escape to safety by descending on an aerial ladder, and air traffic was diverted to nearby Van Nuys Airport and Los Angeles International Airport for several hours. Emergency radio communications with aircraft were conducted by a controller using the radio in a light airplane belonging to Sky Roamers Air Travel, a large flying club whose hangar was just east of the control tower. The fire, contained by firefighters by about 6:30 p.m., caused an estimated $2 million in damages to the terminal, tower, and electronic equipment in the tower. No injuries were reported. Surprisingly, Lockheed officials declared that the airport would reopen the next day, and it did--using electronic equipment borrowed from LAX that was set up in a nearby hangar. The hangar also served as the airport's temporary passenger terminal and baggage claim area. The gutted terminal and tower were rebuilt and reopened the following year. In 1967, Lockheed, aiming at attracting more business, rechristened the facility with the more glamorous-sounding name of Hollywood-Burbank Airport. In 1969 Continental Airlines began service between the Portland and Seattle via San Jose, to Hollywood-Burbank Airport, and Ontario, California. The facility remained Hollywood-Burbank Airport for over a decade, until 1978, when Lockheed sold the airport to the Burbank-Glendale-Pasadena Airport Authority which assumed operational control. At that time, the airport acquired its fifth name: Burbank-Glendale-Pasadena Airport (1978-2003). On November 11, 2003, the airport authority voted to change the airport's name to Bob Hope Airport in honor of comedian Bob Hope, a longtime resident of nearby Toluca Lake, who had died earlier in the year and who had kept his personal airplane at the airfield. The new name was unveiled on December 17, 2003 on the 100th anniversary of the Wright brothers' first flight in 1903, the year that Bob Hope was born. Numerous attempts to expand safety buffer zones and add increased runway length has drawn a considerable amount of negative feedback from the airport's closest residents, citing disturbances from increased noise pollution as a serious nuisance. Expansion space around the airport is virtually non-existent due to the encroachment of the surrounding city, leaving the unlikely option of aggressive land acquisition almost entirely out of reach. BUR is also noted by aircraft spotters as being easily accessible for pleasure viewing of commercial aircraft without the common drawback of disturbing business and other airport functions/facilities. In 2005, the airport celebrated its 75th anniversary. In 2006, it served 5,689,291 travelers on seven major carriers, with more than 70 flights daily. After much controversy and debate between the Airport Authority, the City of Burbank, the Transportation Security Administration, and Burbank residents, in November 2007 it was decided that a new $8- to $10-million baggage screening facility for Terminal B is legal, considering the anti-growth limitations placed on the airport. The facility will house a $2.5-million Explosive Detection System, used for the automatic detection of explosives within checked luggage. However, the facility is still in the early planning phases, and may be vetoed if the residents of Burbank rally against it. The land occupied by the old Lockheed buildings (demolished in the 1990s) at the corners of Empire Avenue and Hollywood Way and Thornton Avenue, is now the site of a growing power center commercial development with major chain restaurants and businesses. Bob Hope Airport covers an area of 610 acres (247 ha) which contains two asphalt paved runways: 15/33 measuring 6,886 x 150 ft (2,099 x 46 m) and 8/26 measuring 5,801 x 150 ft (1,768 x 46 m). Commercial aircraft generally take off on Runway 15 and land on Runway 8 with ILS. For the 12-month period ending October 31, 2006, the airport had 130,849 aircraft operations, an average of 358 per day: 52% scheduled commercial, 31% general aviation, 16% air taxi and <1% military. There are 108 aircraft based at this airport: 47% jet, 28% single-engine, 19% multi-engine and 6% helicopter. History from Wikipedia and OldCompany.com (old stock certificate research service).
---
About Specimen Certificates
Specimen Certificates are actual certificates that have never been issued. They were usually kept by the printers in their permanent archives as their only example of a particular certificate. Sometimes you will see a hand stamp on the certificate that says "Do not remove from file". Specimens were also used to show prospective clients different types of certificate designs that were available. Specimen certificates are usually much scarcer than issued certificates. In fact, many times they are the only way to get a certificate for a particular company because the issued certificates were redeemed and destroyed. In a few instances, Specimen certificates were made for a company but were never used because a different design was chosen by the company. These certificates are normally stamped "Specimen" or they have small holes spelling the word specimen. Most of the time they don't have a serial number, or they have a serial number of 00000. This is an exciting sector of the hobby that has grown in popularity over the past several years.