Beautiful Sweepstake Ticket from the Irish Free State Hospitals issued in 1937. This historic document was printed by the Dollard LTD. Company and has an ornate border around it with a vignette of an allegorical woman. This item has the printed signature of the Company's Managing Director, J. Wyrath and is over 72 years old. 5" x 3". Excellent condition.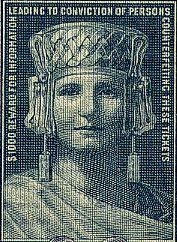 Certificate Vignette
The Irish Hospitals' Sweepstake was a lottery established in the Irish Free State in 1930 as the Irish Free State Hospitals' Sweepstake to finance hospitals, and is often referred to as the Irish Sweepstake. The Public Charitable Hospitals (Temporary Provisions) Act, 1930 was the act that established the lottery; as this act expired in 1934, in accordance with its terms, the Public Hospitals Acts were the legislative basis for the scheme thereafter. The main organisers were Richard Duggan, Captain Spencer Freeman and Joe McGrath.Duggan was a well known Dublin bookmaker who had organised a number of sweepstakes in the decade prior to setting up the Hospitals' Sweepstake. Captain Freeman was a welsh born engineer and former captain in the British army. After the Constitution of Ireland was enacted in 1937 the name Irish Hospitals' Sweepstake was adopted.