Beautiful RARE (possibly unique) uncancelled certificate from the Kansas City Base Ball Association issued on May 5th, 1886. This historic document has an ornate border around it with a vignette of a baseball player sliding onto home. This item has the handwritten signatures of the Company's President, Joseph J. Hein, and Secretary, James Whitfield; and is over 125 years old. Folds, wear and foxing on top. This is the only example of this team's certificate we have seen.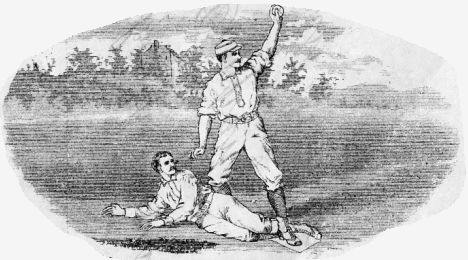 Certificate Vignette

Certificate Vignette
The Kansas City Cowboys were a National League that only played one season in 1886. They played at Association Park and finished with a 30-91 record. They finished in seventh place, ahead of another new team, the Washington Nationals. They were not connected to the Union Association Cowboys. The Cowboys were admitted to the National League on a trial basis for the 1886 season. The team went out of business in February, 1887, having been forced to sell its players back to the league for $6,000. They were replaced in the league by the Pittsburg Alleghenys, which moved to the league from the American Association. The team was founded by James Whitfield of the Kansas City Times and two local beer brewers, Joseph Heim & Americus McKim Joseph J. Heim was originally from St. Louis, Missouri, where he learned the techniques of brewing. Heim came to Kansas City in 1884 where he began building his brewery empire. By 1901, the Heim Brewery in the East Bottoms had become the largest brewery in Kansas City, producing in excess of 140,000 barrels annually. Heim and his brothers also opened an amusement park near the brewery in 1899. The amusement park featured Heim beer piped in directly from the nearby brewery. Heim was also involved with numerous other business ventures including baseball, real estate, banking, street railways, and telephone companies. The only player from the Kansas City Cowboys (during their single season of existence) to lead a day-to-day stat was pitcher Stump Wiedman who led the National League in games lost and hits allowed. Stock research by
OldCompany.com
(old stock certificate research service). History from Baseball Reference Encyclopedia and Wikipedia.