Beautifully engraved SPECIMEN certificate from the Kellogg Company. This historic document was printed by the American Banknote Company and has an ornate border around it with a vignette of an allegorical woman and child sitting next to a basket of food. This item has the printed signatures of the Company's Chairman of the Board and Secretary.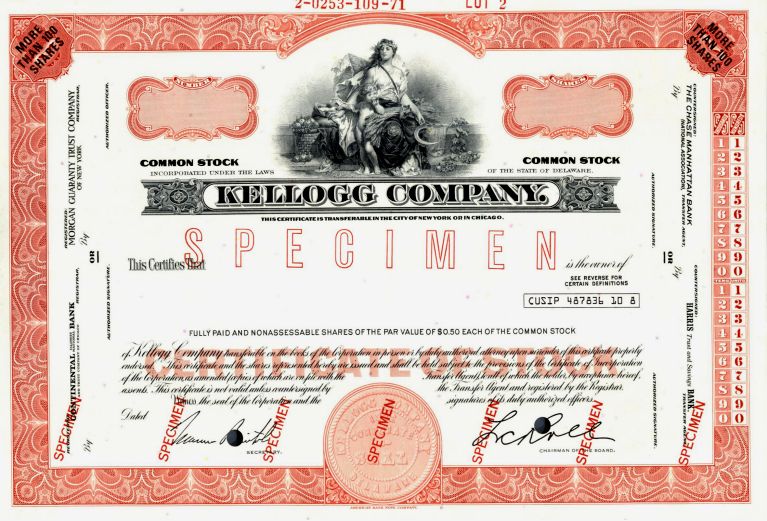 Certificate
Kellogg Company (also Kellogg's, Kellogg, and Kellogg's of Battle Creek) is an American multinational food manufacturing company headquartered in Battle Creek, Michigan, United States. Kellogg's produces cereal and convenience foods, including cookies, crackers, toaster pastries, cereal bars, fruit-flavored snacks, frozen waffles, and vegetarian foods. The company's brands include Froot Loops, Corn Flakes, Frosted Flakes, Rice Krispies, Special K, Cocoa Krispies, Keebler, Pringles, Pop-Tarts, Kashi, Cheez-It, Eggo, Nutri-Grain, Morningstar Farms, and many more. Kellogg's stated purpose is "Nourishing families so they can flourish and thrive." Kellogg's products are manufactured in 18 countries and marketed in over 180 countries. Kellogg's largest factory is at Trafford Park in Manchester, United Kingdom, which is also the location of its European headquarters.Kellogg's holds a Royal Warrant from Queen Elizabeth II and the Prince of Wales. History from Wikipedia, Encyberpedia and
OldCompany.com
(old stock certificate research service)
---
About Specimens
Specimen Certificates are actual certificates that have never been issued. They were usually kept by the printers in their permanent archives as their only example of a particular certificate. Sometimes you will see a hand stamp on the certificate that says "Do not remove from file". Specimens were also used to show prospective clients different types of certificate designs that were available. Specimen certificates are usually much scarcer than issued certificates. In fact, many times they are the only way to get a certificate for a particular company because the issued certificates were redeemed and destroyed. In a few instances, Specimen certificates we made for a company but were never used because a different design was chosen by the company. These certificates are normally stamped "Specimen" or they have small holes spelling the word specimen. Most of the time they don't have a serial number, or they have a serial number of 00000.