Beautiful certificate from the Long Island Land Company of Boston issued in 1874. This historic document has an ornate border around it with a vignette of a train passing thru a town. This item has the signatures of the Company's President, Henry Steward and Secretary, George William Ballou and is over 134 years old. The section of the certificate that was crossed out, related to assessments. The certificate was issued to George Ballou and is signed by him on the verso.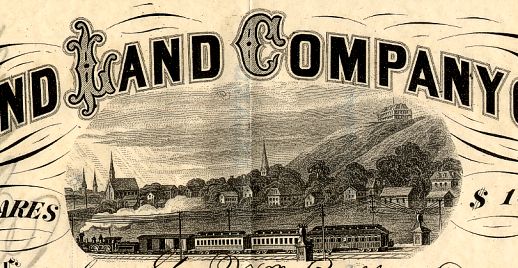 Certificate Vignette
According to the face of the certificate, "The Long Island Land Company of Boston whose property consists of 10,454,400 square feet of land located in the town of Jamaica, Queens County, Long Island, New York..." Since there are 43560 square feet in an acre, the company owned 240 acres of property. George William Ballou was the founder of the Wall Street firm, George William Ballou Co. His company had offices in Boston and New York. The following is from the New York Times printed on August 15, 1883. THE FAILURE IN BOSTON.; MR. BALLOU'S PARTNER STRUCK WITH ASTONISHMENT BY THE SUSPENSION. BOSTON, Aug. 14.--The first intimation of the embarrassment of the banking firm of George W. Ballou Co. was received here at about noon to-day, in private dispatches from New-York...

New York Times - August 15, 1883