Beautiful certificate from the Madison Coca Cola Bottling Company issued in 1939. This historic document was printed by the Goes Company and has an ornate border around it with a vignette of an Eagle. This item has the signatures of the Company's President, Thomas Cartter Lupton and Secretary, Edward Finlay and is over 78 years old.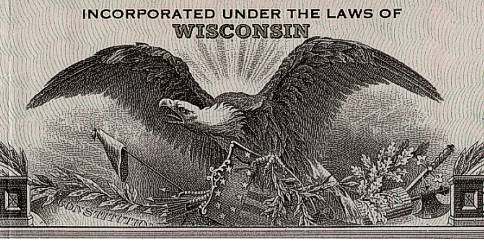 Certificate Vignette
Thomas Cartter Lupton (1899 - 1977) was an American businessman and Coca-Cola Bottling Company magnate who lived in Chattanooga, Tennessee and founded the Lyndhurst Foundation (formerly The Memorial Welfare Foundation). He was the only child of John Thomas Lupton and Elizabeth Patten, and was married to Margaret Rawlings Lupton. At the time of his death, his $200 million dollar (USD) estate was the largest ever probated in the South. Unlike his father or his son Jack, Cartter was known for being a recluse. The Lupton Library at the University of Tennessee at Chattanooga is named for him and his wife.