Beautifully engraved certificate from the Mendenhall Gold Mining Co. issued in 1894. This historic document was printed by the William B. Burford Lith. and has an ornate border around it with a vignette of a old home in the mountains beside a river. This item has been handsigned by the Company's President, Isaiah P. Watts and Secretary, Lon W. Mills and is over 117 years old.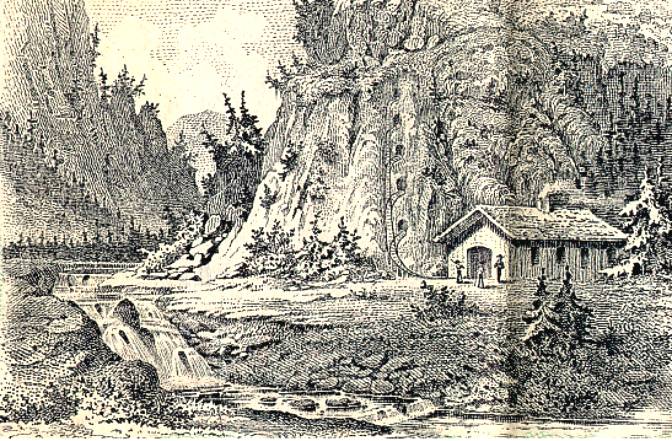 Certificate Vignette
Isaiah P. Watts - Representative from Randolph County, was born in Richland County. Ohio, June 15, 1840. His father, Samuel Watts, and his mother, Martha Paxson Watts, were both natives of Pennsylvania, his mother having been born in Chester County, that State. Mr. Watts attended the common schools and Liber College in Jay County. Indiana, and has engaged in teaching, law and the ministry. He has served as clerk of the courts. In politics he is a Republican, and is a member of the Christian church.
---
Past and Present of Randolph County, Indiana, 1914. Randolph County, Indiana Isaiah P. Watts Examples that impress force of character on all who study them are worthy of record, and the mission of a great soul in this world is one that is calculated to inspire a multitude of others to better and grander things; so its subsequent influence cannot be measured in metes and bounds, for it affects the lives of those with whom it comes into contact, broadening and enriching them for all time to come. By a few general observations may be conveyed some idea of the noble character and useful career of Isaiah P. Watts, who for a long lapse of years has been one of the best known and most influential ministers of the gospel and politicians of Winchester, Randolph county, and he is not unknown to the state and nation, for united in his nature are so many elements of a solid, practical and helpful nature that they have brought him into prominent notice; and, not content to hide his talents amid life's sequestered ways, by the force of an indomitable will and a laudable ambition, has forged to the front. His life has been one of hard study and unselfish industry, whose laborious professional duties in the various relations in which he has been placed, has led to a high position in the esteem of the public, which gives evidence that the qualities which he possesses afford the means of distinction under a system of government in which places of honor and usefulness are open to all who may be found worthy of them. Mr. Watts was born in Richland county, Ohio, June 15, 1840. He is a son of Samuel Watts, who at one time was a prosperous merchant, but both misfortune and ill health overtaking him he turned to the wilds of Indiana in the hope of regaining both health and fortune. It was in the year 1847 that he removed with his family to Wells county, locating on a farm between the towns of Bluffton and Camden, and there our subject spent his boyhood years, amid the hardships and privations incident to pioneer life. Although only seven years old when he was brought to Indiana he had attended school in Ohio, but was denied the privilege of continuing the same in the woods of the new locality where the family had settled. It was not until 1850 that he had the opportunity of attending school in this state. That was at the village of Rifesburg, eight miles distant from the home place. While at tending school there he lived with Henry Elston, doing farm work for his board. At the age of twelve he worked on the railroad in winter in order to obtain funds to pay his way in school, and while living with Mr. Elston he made such rapid progress in his studies that when seventeen years of age, having saved a little money, he entered Liber College, where he studied five terms, his school life terminating in 1860, just prior to the breaking out of the great war of the Rebellion. In 1862 he enlisted in Company H, Eighty- fourth Indiana Volunteer Infantry. While in the army he served much of the time on detached duty, and during the winter of 1862-63, he was chief clerk of the general hospital at Ashland, Kentucky. In June, 1863, he was taken ill, and sent to the hospital at Murfreesboro, Tennessee, and during his convalescence was transferred to Chattanooga, that state. There he was assigned to duty as chief clerk of the general hospital, and afterwards as clerk in the office of the medical director at Chattanooga. In January, 1864, he was appointed counsel of administration to take charge of the effects of deceased soldiers and forward them to their proper destination. In March of the latter year he came home on furlough of thirty days, rejoining his regiment in April at Blue Springs, Tennessee, and continuing with it until the close of the war, participating in the meantime in the battles of Buzzard's Roost, Tunnel Hill, Rocky Face Ridge, Dalton, Resaca, Kingston, Pumpkin Vine Creek, Pine Mountain, Kenesaw Mountain, Neal Bow Church, Culp's Farm, Peach Tree Creek, the many sanguinary conflicts in front of Atlanta Shoal's Creek, Lovejoy Station, Franklin and Nashville, in all of which he proved to be a gallant and courageous soldier for the Stars and Stripes. He was honorably discharged and mustered out on June 14, 1865, and soon thereafter returned to Winchester and engaged in the trade of silversmith, meanwhile devoting his spare time to the study of the law, and was later a student in the office ofCheney & Watson. He made rapid progress as a law student and was admitted to the bar in 1866, from which time until 1870 he was the partner of F. B. Reynolds, and in 1873 effected a co-partnership in the practice with A. 0. Marsh, which was continued until the following year. After 1874 he practiced alone, and in 1876 was the Republican candidate for secretary of state. That canvass was one of the most exciting in the history of the state. The state went Democratic with a majority of about five thousand, and Mr. Watts went down in the general landslide. In 1880 he was nominated by his party for the office of clerk of the Randolph circuit court and he was accordingly elected in the autumn of that year. He assumed his duties in that office in August, 1881, and discharged the same with commendable fidelity until 1885. For a number of years he acted as pension agent in Winchester and had the satisfaction of aiding many a comrade and many a widow and orphan to secure the aid awarded by a grateful country. In addition to his official duties, Mr. Watts for some time had personal charge of the Christian church of Winchester. Although he was regarded as one of the successful and learned lawyers of Randolph county and had built up a lucrative practice, he readily gave this up and devoted his attention to the ministry of the gospel, believing that thereby he could accomplish more good for his fellow men, and he ranks high in the ministry of the denomination mentioned above, with which he identified himself in early life. He is an earnest, forceful and at times truly eloquent speaker, ever active and zealous in the work of the church, self-sacrificing in his devotion to the same. He was for a period of three years pastor of the Christan church at Alexandria besides preaching at various other points. He became interested in the sudden material growth of the town of Alexandria in 1892, and he was elected president of the Phillips Land & Gas Company, in which he was a heavy stockholder and his able management and honest dealings resulted in great success for this company. He was a most potent factor in securing for the town of Alexandria factories and enterprising citizens, and it eventually became one of the most flourishing centers in the gas belt of Indiana, and the town owes him a debt of gratitude that it can never pay. The daily affairs of Mr. Watts have ever been governed by a high sense of honor and right, and he has therefore always had the confidence and good will of all who knew him. He has ever proved himself a faithful and efficient servant of the people, prompt and courteous in the transaction of his duties, ever keeping the best interests of the general public foremost. In the year 1903 he was elected representative from Randolph county to the legislature and served one term to the eminent satisfaction of his constituents. On January 1, 1906 he was appointed door-keeper of the United States Senate and was in Washington four years as a result of this appointment, and he proved to be a popular and faithful man for that post. He is a member of the Grand Army of the Republic, and was departmental chaplain for that organization when the great Soldiers' and Sailors' monument was dedicated in Indianapolis. While a member of the legislature he introduced the bill providing for the imposing monument of Indiana's famous war governor, Oliver P. Morton, which now graces Capitol Square, Indianapolis. Mr. Watts was a candidate for Congress from the Eighth Congressional district in 1910, but was defeated; and in 1912 he was nominated for the same office without opposition, and made an excellent campaign, but went down, in the general Republican defeat of that year, Randolph county going Democratic for the first time in fifty years; He is a pension attorney and is still practicing law with a wide clientele, maintaining an office in the Kizerbuilding, North Main street, Winchester, and he also keeps up his ministry, devoting about one-half of his time to the affairs of the Christian church, and is at this writing pastor of a congregation in Indianapolis. He is indeed a tireless worker in the vineyard of the Lord. Although past his seventy-third year he is in full possession of his faculties, hale and active as a result of his wholesome life and right thinking. The domestic life of Mr. Watts began in August, 1861 when he was united in marriage with Ann Eliza Diggs, who proved to be a most excellent helpmeet in every respect, genial, wise in counsel, charitable and high minded, and, like her distinguished husband has won her way into the affection of a very wide circle of friends. Her father, Littleberry Diggs, long since deceased, was one of the early pioneers of Randolph county, and here she grew to womanhood and was educated. The union of Mr. and Mrs. Watts has been blessed by the birth of five children, named as follows: Inez became the wife of E. F. Tibbott, who was private secretary to President Benjamin Harrison; Grace A. married E. H. Addington, son of Rev. Thomas Addington, a well-known citizen of Randolph county for many years; William A. died in infancy; Thomas M. is engaged in the mercantile business and Shelley D., the youngest is at Middletown, Ohio, where he is manager of the Social Service Bureau. Personally Mr. Watts is a pleasant gentleman to meet, a type of the true Christian, an obliging and chivalrous gentleman of the old school.
---
From the United States Patent Office: AMOS MENDENHALL,. OF UNIONPORT, INDIANA, ASSIGNOR TO THE MENDENHALL GOLD MINING COMPANY, OP CHICAGO, ILLINOIS. GOLD-MINING DEVICE. SPECIFICATION forming part of Letters Patent No. 540,997, dated June 11,1895. Application filed March 15,1895. .· Serial Ho. 541,912. (So model.) To all whom it may concern: Be it known that I, Amos Mendenhall, a citizen of the-United States, and a resident of Unionport, in the county of Randolph and 5 State of Indiana, have invented certain new and useful Improvements in Gold-Mining Devices; and I do hereby declare that the following is a full, clear, and exact description of the invention, which will enable others skilled in the art to which it appertains to make and use the same, reference being had to the accompanying drawings, which form a part of this specification. My invention relates to improvements in machines for taking gold bearing deposits from the bottoms of rivers and other waters, and is intended as an improvement upon the invention described in Letters Patent granted to me April 5,1887, No. 360,713. In said patent there is shown and described a boat or scow provided with a well and with a pivoted dredging pipe, having a valve at its lower end. In practice the dredging pipe with the valve closed, is lowered into the water until its end is in close proximity to the bottom. The valve is then opened when the water will rush up into the pipe carrying with it the gold bearing deposits from the bottom of the river. The valve is again closed and the pipe tilted on its pivots, when the water and deposits therein are delivered or dumped into a sluice box. The present invention is designed to obviate objections incident to the working of the above machine, and it consists in the novel construction and combination of parts hereinafter fully described and claimed. In the accompanying drawings, Figure 1 is a side view of a boat or scow with my improvements applied thereto. Fig. 2 is a plan view of the same. Figs. 3 and 4 are detail views of one of the capstans and sprocket-wheels. Fig. 5 is a horizontal sectional view of one of the capstans....