Beautifully engraved RARE Specimen $1000 gold bond certificate from the National Press Building Corporation printed in 1928. This historic document was printed by the Hamilton Banknote Company and has an ornate border around it with a vignette of an eagle. This item is over 91 years old. 40 coupons attached on right (Scan only shows a partial picture due to certificate size.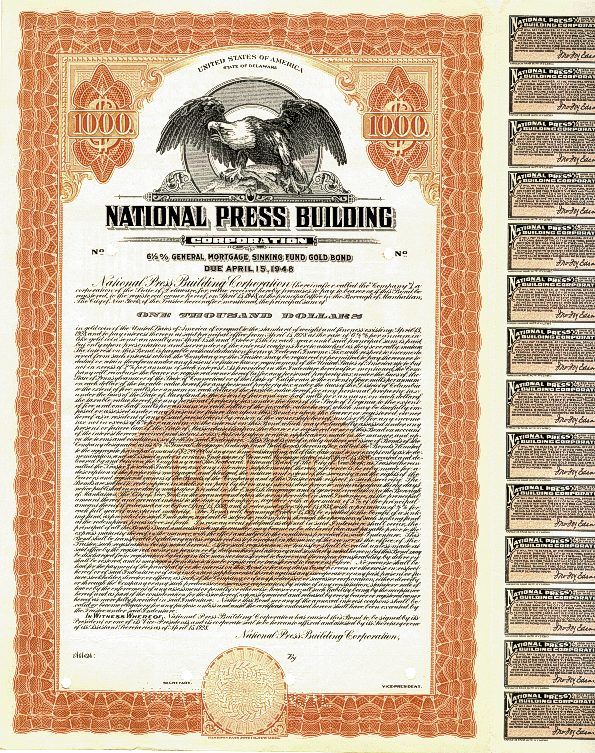 Certificate
The National Press Club is a professional organization and business center for journalists and communications professionals. It is located in Washington, D.C. Its membership consists of journalists, former journalists, government information officers, and those considered to be regular news sources. It has gatherings with invited speakers from public life as well as a venue open to the public to host business meetings, news conferences, industry gatherings and social events. In 1925, National Press Club President Henry L. Sweinhart, appointed a special building committee to plan for a permanent club headquarters. The Ebbitt Hotel was demolished, and the Ebbitt Grill moved to the Albee building. The new National Press Building, at 14th and F Streets NW, was completed in August 1927, and included retail space and office space intended for Washington news bureaus, with the club occupying the 13th and 14th floors. In order to increase their funding, the club made a deal with movie studio 20th Century Fox to build a theater as part of the building. In 1932, Bascom N. Timmons, who established an independent news bureau in Washington, D.C., became president of the Press Club. He worked to save the press club building in New York City from foreclosure by persuading President Franklin Roosevelt to sign an amendment to the federal bankruptcy law that blocked pending foreclosure and kept the building open. The National Press Building was renovated from 1984 to 1985, in conjunction with the development of the adjacent The Shops at National Place. Beginning in 2004, a 10-year, $15 million second renovation occurred. In 2011, the building was sold to Quadrangle Development Corp. and AEW Core Property Trust (U.S.) for $167.5 million. The owners placed the building, assessed at $237.5 million, up for sale in August 2014. History from Wikipedia and
OldCompany.com
(old stock certificate research service)
About Specimen Certificates
Specimen Certificates are actual certificates that have never been issued. They were usually kept by the printers in their permanent archives as their only example of a particular certificate. Sometimes you will see a hand stamp on the certificate that says "Do not remove from file". Specimens were also used to show prospective clients different types of certificate designs that were available. Specimen certificates are usually much scarcer than issued certificates. In fact, many times they are the only way to get a certificate for a particular company because the issued certificates were redeemed and destroyed. In a few instances, Specimen certificates were made for a company but were never used because a different design was chosen by the company. These certificates are normally stamped "Specimen" or they have small holes spelling the word specimen. Most of the time they don't have a serial number, or they have a serial number of 00000.