Beautifully engraved uncancelled certificate from the National Trade Journals, Inc. issued in 1929. This historic document was printed by the American Banknote Company and has an ornate border around it with a vignette of two allegorical women sitting on top of a globe with one writing into a book. This item has the signatures of the Company's President, and Secretary,.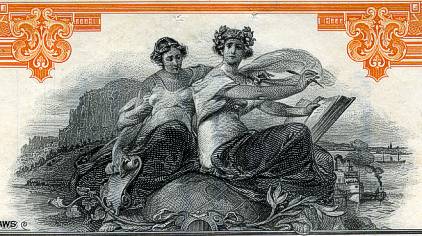 Certificate Vignette
National Trade Journals, Inc. was located at 521 Fifth Avenue, New York. The company publisheds a number of technical and trade magazines including The Architectural Forum, Heating and Ventilating, Good Furniture and Decoration, and Diesel Power, National Cleaner & Dyer; Interior and other periodicals relating to Motorship, Diesel Power, Fishing Gazette, Canning Age, Butchers' Advocate...