Beautiful certificate from the New Dominion Gold Mining Company issued in 1906. This historic document has an ornate border around it with a vignette of a mining encampment by the side of a mountain river. This item has the signatures of the Company's President, Samuel Morris and Secretary, J. H. Frank Smokey and is over 104 years old.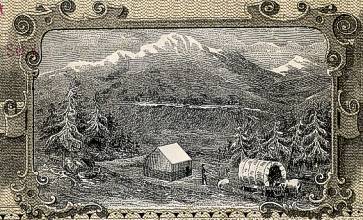 Certificate Vignette
New Dominion Gold Mining Company operated on the south slope of Silver Mountain, Colorado. Denver, Colo. Mine office: Ophir, San Miguel Co., Colo. Organized 1906, under laws of Arizona, with capitalization $1,800,000, shares $1 par. Had tunnels of 940' and 1,100', showing auriferous and argentiferous copper, zinc and lead sulphides.