Beautiful certificate from the New Orleans & Ohio Telegraph Lessees issued in 1858. This historic document has a border around it with a vignette of Norvin Green, allegorical trio of women in middle, allegorical women holding up Shares Shield an canal boat with locomotive passing telegraph lines. This item has been hand signed by the Company's President, Norvin Green, and Treasurer, George Diriglap, and is over 155 years old. Slightly soiled, cut cancelled.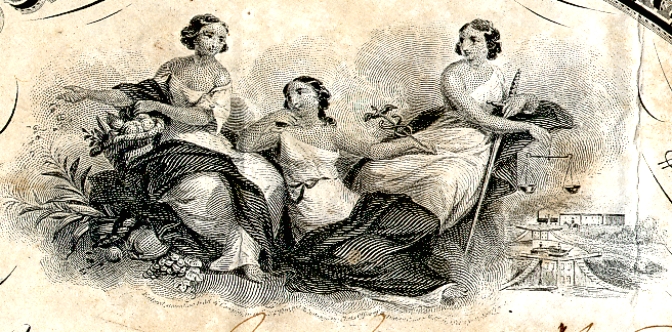 Certificate Vignette
This item is one of the earliest share certificates of the telecommunications industry. Norvin Green was born in New Albany, Indiana on 17 February 1818. His father, Joseph, was a farmer and veteran of the war of 1812. Green moved with his family to Kentucky while he was still young and was educated in country schools there. Even as a young man, he demonstrated a talent for business. He ran a floating grocery store on the Mississippi when he was 16 and also has a business chopping and selling firewood. These enterprises allowed him to help his family and pay for a medical education. Green began working with a local doctor and then went to the University of Louisville to have a formal medical education. He graduated in 1840 and then served as a doctor at Western Military Academy in Kentucky. At this point in his life, Green also developed a strong interest in politics and served several terms as a member of the Kentucky State legislature. He gained attention, was appointed Commissioner of the United States and was given the task of building a Custom House and post office in Louisville. At this point, he began to be involved in telegraphy. While Green's interest in politics would continue, his role in communications would define his life. The American, United States and Western Union telegraph companies were consolidated in 1866 and Green was made Vice president of the organization. He would then work in telegraphs for rest of life, with exception of 3 years in the early 1870s spent as President of the Louisville, Cincinnati and Lexington Railroad Company. In 1878, Green was made president of Western Union. Throughout his somewhat varied career, Green was known for his strong work ethic and certainly developed a useful network of business associates. He was one of the AIEE founders and, from 1884-85, served as the first president. His political savvy supported a nearly successful Senate run and lobbying the national government on behalf of telegraph interests. By the end of his life, the boy who started by selling groceries on the river had managed to amassed a 2 million dollar fortune of stock and real estate. Green also had a well developed life beyond work. Green was known for a keen sense of humor, popular at his club, and a devoted smoker. He was married to his wife, Martha English, for over fifty years. The couple raised four sons and 2 daughters. He died on 12 February 1893 at his home in Louisville, Kentucky.