Beautiful certificate from the North American Transportation and Trading Company issued in 1900. This historic document was printed by the Western Banknote Company and has an ornate border around it with a vignette of an train passing around a mountain lake with a serene view of boats and a white mountain off in the distance. This item has the signatures of the Company's President, Michael Cudahy and Secretary, and is over 115 years old.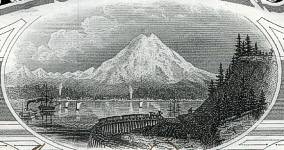 Certificate Vignette
In early August of 1897, the North American Transportation and Trading Company ordered a fleet of 15 ships to provide transportation to the gold strikes in western Alaska at the turn of the nineteenth century -- which required ocean-going vessels that could sail the Bering Sea -- further stimulated the shipbuilding industry in Seattle. The Klondike stampede boosted Seattle's shipping to the Far North considerably. According to a newspaper report, Seattle's fleet tripled in size between 1897 and 1898, in part due to the "Alaskan business." So pressing was the demand for steamships in the late 1890s that some vessels of marginal quality were placed in service. Seattle's shipping "never was so entirely engaged," explained one reporter in 1897. "Not a single vessel seaworthy and capable of use" was overlooked. Michael Cudahy (18411910) was an American industrialist. He was born in Callan, County Kilkenny Ireland in 1841 and emigrated to the United States in 1849. He moved with his family to Milwaukee, Wisconsin and worked in the meat packing industry. With the help of his brothers Edward and Patrick Cudahy, he established the Cudahy Meatpacking plant in South Omaha, Nebraska. In 1908 Cudahy sold his share of the company and bought a 2,800 acre (11 km²) ranch east of Los Angeles. He subdivided the ranch and sold it as one acre (4,000 m²) lots. This area was incorporated in 1960 as the City of Cudahy, California. Although it was Gustavus F. Swift who pioneered in the development of refrigeration in transportation with the refrigerated car, it was Cudahy and Armour who made the greatest developments in using refrigeration on the production side of the meat packing business. Before it had been largely a winter business, but the process of refrigeration revolutionized the industry so that it could be carried on continuously throughout the year. Cudahy's part was that of a captain of industry who understand the significance of a new scientific development and made possible its application to commerce. In 1887, Philip D. Armour, Michael Cudahy, and his brother, Edward A. Cudahy, purchased a small packing plant in South Omaha, Nebraska, and began a new business there called Armour-Cudahy Packing Company. In 1890 Michael Cudahy sold his interests in the Chicago Armour business to Armour and Company, and in turn, purchased Armour's interest in Armour-Cudahy, which was renamed Cudahy Packing Company. He remained president until he died in 1910.