Beautifully engraved scarce specimen stock certificate from Orion Pictures Corporation printed in 1984. This historic document was printed by the American Banknote Company and has an ornate border around it with an image of a woman. This item has the printed signatures of the Company's President, Eric Pleskow and Secretary.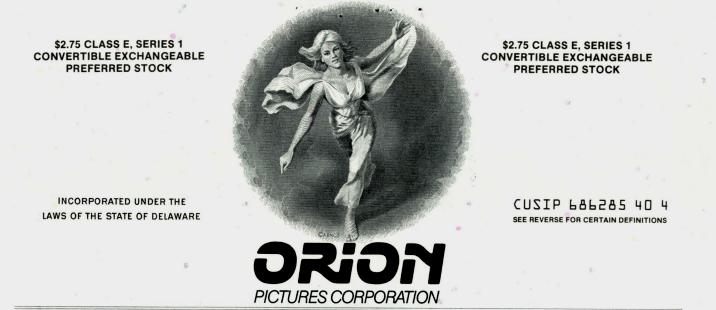 Certificate Image
Orion Pictures Corporation was an American independent production company that produced movies from 1978 until 1998. It was formed in 1978 as a joint venture between Warner Bros. and three former top-level executives of United Artists. Although it was never a large motion picture producer, Orion achieved a comparatively high reputation for Hollywood quality. Woody Allen, James Cameron, Jonathan Demme, Oliver Stone, and several other prominent directors worked with Orion during its most successful years from 1978 to 1992. Of the films distributed by Orion, four won Academy Awards for Best Picture: Amadeus, Platoon, Dances with Wolves, and The Silence of the Lambs. History from Encyberpedia and
OldCompany.com
(old stock certificate research service)
About Specimen Certificates
Specimen Certificates are actual certificates that have never been issued. They were usually kept by the printers in their permanent archives as their only example of a particular certificate. Sometimes you will see a hand stamp on the certificate that says "Do not remove from file". Specimens were also used to show prospective clients different types of certificate designs that were available. Specimen certificates are usually much scarcer than issued certificates. In fact, many times they are the only way to get a certificate for a particular company because the issued certificates were redeemed and destroyed. In a few instances, Specimen certificates were made for a company but were never used because a different design was chosen by the company. These certificates are normally stamped "Specimen" or they have small holes spelling the word specimen. Most of the time they don't have a serial number, or they have a serial number of 00000. This is an exciting sector of the hobby that has grown in popularity over the past several years.