Beautiful $1,000 Bond Certificate from the Pennsylvania Canal Company issued in 1870. This historic document was printed by the T. Sinclair's Lith Company and has an ornate border around it with a vignette of a barge in the canal with a train crossing a bridge in the background. This item has the signatures of the Company's President, I. J. Wistar (Civil War Brigadier General Isaac Jones Wistar) and Secretary, and Trustee is over 141 years old. No cancellation marks on face of bond. XF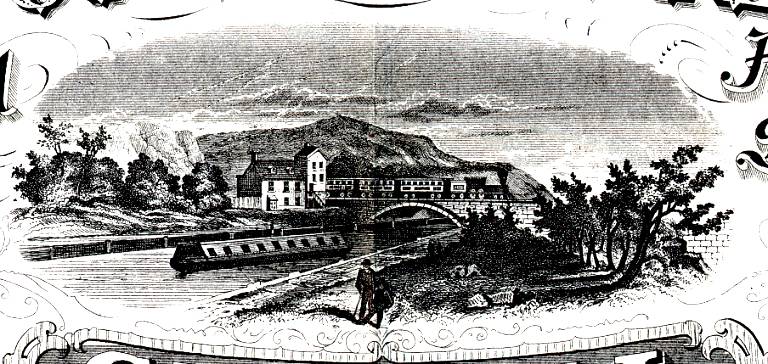 Certificate Vignette
The canal era began in Pennsylvania in 1797 with the Conewago Canal, which carried riverboats around Conewago Falls on the Susquehanna River near York Haven. Spurred by construction of the Erie Canal between 1817 and 1825 and the competitive advantage it gave New York State in moving people and materials to and from the interior of the continent, Pennsylvanians built hundreds of miles of canals during the early decades of the 19th century. These included two canals built by Pennsylvania stock companies, the Schuylkill Canal from Philadelphia to Port Carbon and the Union Canal from Reading to Middletown. By 1834, the Main Line of Public Works, a system of interlocking canals, railways, and inclined planes, was hauling passengers and freight up to 391 miles (629 km) between Philadelphia and Pittsburgh. Though not all in concurrent operation, the total length of the canals built in Pennsylvania eventually reached 1,243 miles (2,000 km). By 1840, work had been completed not only on the Main Line of Public Works but on many other lines, officially called divisions. The Main Line consisted of the Eastern Division, the Juniata Division, the Western Division, the Philadelphia and Columbia Railroad, and the Allegheny Portage Railroad. Northsouth divisions operated along the Delaware River in the east, the Susquehanna River in the middle of the state, and the Beaver River in the west. A few additions were completed after 1840. By about 1850, railroads had begun displacing canals as the preferred method of long-distance transportation. In 1852, the Pennsylvania Railroad (PRR) began offering rail service from Philadelphia to Pittsburgh, and in 1857, it bought the Main Line Canal from the state. In 1859, all canals owned by the commonwealth were sold. The PRR formed the Pennsylvania Canal Company in 1867 and continued to use canals to haul freight. However, the canal business declined steadily in the last quarter of the century, and most Pennsylvania canals no longer functioned after 1900. History from Wikipedia and
OldCompany.com
(old stock certificate research service).
---
Wistar (1827-1905) was born in Philadelphia, Pennsylvania. During the civil War, hewas part of the 71st Pennsylvania Regiment, rising to the rank of colonel. He was wounded twice at the Battle of Ball's Bluff (Oct. 21, 1861) and again at the Battle of Antietam (Sept. 17, 1862) and was promoted to Brigadier General of Volunteers from 1862 to 1864. After the war, he became Vice President of the Pennsylvania Railroad Companyand president of the Pennsylvania Canal Company. In 1892, established the Wistar Institute of Anatomy and Biology in Philadelphia with an endowment of $1 million. Wistar's father and brother were both physicians. Rather than pursue a career in medicine, however, Wistar, at the age of twenty, headed to California during the 1849 gold rush and became a successful lawyer in San Francisco. Returning home to Philadelphia in 1857, he was admitted to practice before the Supreme Court of Pennsylvania in 1858. After the outbreak of the Civil War, Wistar received a commission as a Colonel, raised nearly 1,000 volunteers for a new unit, and then led his men into battle. Wounded three times and with his right arm paralyzed, Wistar retired from the U. S. Army as a Brigadier General in 1864 and returned to Philadelphia where he began a long rehabilitation. Wistar then made his fortune as president of the Pennsylvania Canal Company, which shipped coal for the Pennsylvania Railroad. Having no children, he and his wife Sarah devoted their time and money to civic causes. In his later years, Wistar served as an Inspector for the Eastern State Penitentiary, President of the Academy of Natural Sciences of Philadelphia (1891-1895), and President of the American Philosophical Society (1902-1903). In the early 1800s, Caspar Wistar had begun to collect dried, wax-injected, and preserved human specimens. By the 1880s this had expanded into a rich collection of anatomical specimens, and anthropological samples housed in the Wistar and Horner Museum at the University of Pennsylvania. History from
Collectible Old Stocks and Bonds
(old stock certificate buyer and seller) and
WWI Liberty Bonds Buyer
.