Beautifully engraved certificate from the Pennsylvania, Slatington and New England Railroad Company issued in 1883. This historic document was printed by the American Banknote Company and has an ornate border around it with a vignette of a train with an angel on each side. This item has the signatures of the Company's President, Nathaniel S. Rue and Secretary, J. Stanton Jr.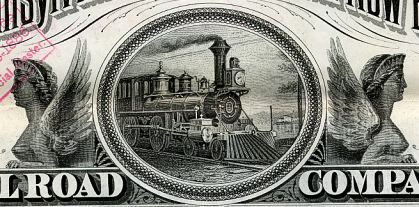 Certificate Vignette
Pennsylvania, Slatington and New England Railroad: 1882-1887 The Pennsylvania, Slatington and New England Railroad was formed June 22, 1882 as a consolidation of the Pennsylvania and New England Railroad (NJ Division) and Delaware and Slatington Railroad, to build from Slatington, Pennsylvania to Pine Island, New York. In December of that year, John L. Blair, who controlled the nearby Bangor and Portland Railway, acquired control of the PS&NE, in order to give the B&P direct access to New England and other points. Additionally the Central Railroad of New Jersey's Lehigh and Lackawanna Railroad could no longer access points on the B&P. Construction was carried out through 1883, with grading finished in Pennsylvania and about 12 miles west from Sussex, New Jersey. The bridge over the Delaware River at Portland was built, and rails were laid for about half of the length in Pennsylvania. In early 1883 a dispute erupted with the Wind Gap and Delaware Railroad over the tracks between Pen Argyl and Bangor, which the PS&NE wanted to use. Later that year the company went bankrupt and construction stopped.