Beautiful certificate from the Philadelphia and Sunbury Railroad Company issued in 1856. This historic document was printed by the McLaughlin Bros Company and has an ornate border around it with a vignettes of allegorical women and a train. This item has the signatures of the Company's President and Secretary, and is over 157 years old.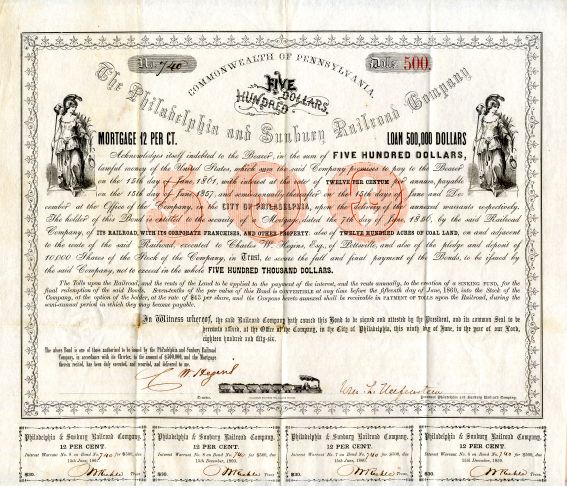 Certificate Vignette
The Philadelphia and Sunbury Railroad Company was organized at the Franklin House in Philadelphia on April 28, 1851 by the purchasers of the Danville and Pottsville Railroad, its franchises, appurtenances, etc., which had been sold at sheriff's sale on the 16th of January, 1851. In 1853 the track between Sunbury and Shamokin was relaid with iron rails made by the Danville Iron Company; six new locomotives, the "David Longenecker", "A. R. Fiske", "Green Ridge", "Carbon Run", "Thomas Baumgardner," and "Lancaster", were procured; and on the 25th of August, 1853, the formal reopening occurred. In the following year the road was extended to Mount Carmel. Company research by
OldCompany.com
(old stock certificate research service).