Beautiful uncancelled stock certificate from the Philadelphia Daily News, Incorporated issued in 1956. This historic document was printed by the M. Burr Keim Company and has an ornate border around it with a vignette of an eagle. This item has the signatures of the Company's President and Secretary, and is over 53 years old.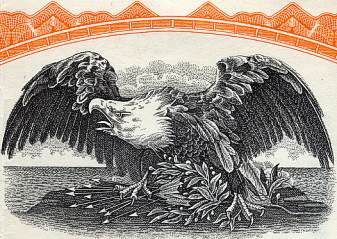 Certificate Vignette
The Philadelphia Daily News is a tabloid newspaper that began publishing on March 31, 1925, under founding editor Lee Ellmaker. In its early years, it was dominated by crime stories, sports and sensationalism. By 1930, daily circulation of the morning paper exceeded 200,000. It is owned by Philadelphia Media Holdings L.L.C. Circulation dropped over the years, and by 1954, the money-losing paper was sold to Matthew McCloskey, a contractor and treasurer of the Pennsylvania Democratic Party. In December 1956, the paper's financial condition was so bad that McCloskey got permission from the unions for a 90 percent cut in the workforce. In 1957, McCloskey sold the paper to Walter Annenberg, publisher of The Philadelphia Inquirer. Annenberg killed off the Daily News' Sunday edition and made the tabloid into an afternoon paper. In 1969, Annenberg sold both papers to Knight Newspapers Inc., which eventually became Knight Ridder following a merger. Under the new ownership, the Daily News returned to morning publication and aimed to be taken more seriously. The paper's journalists have won the Pulitzer Prize twice since then. Richard Aregood won in 1985 for editorial writing and Signe Wilkinson won for her editorial cartoons in 1992. The paper continues to struggle financially (It was surpassed in circulation, but not readership, by the free daily Metro). When the sale of Knight Ridder to The McClatchy Company was announced in March 2006, there were rumors that McClatchy would close the Daily News. However, in May, before the sale was finalized, it was announced that the Inquirer and Daily News would be re-sold to Philadelphia Media Holdings L.L.C., a local group led by advertising executive Brian Tierney and co-founder of the Toll Brothers homebuilding firm, Bruce Toll. The deal became official on June 29, 2006. The group intends to strengthen the online presence of both papers, and begin an extensive ad campaign. In early 2009 debts from buying the newspapers forced Philadelphia Media Holdings into Chapter 11 bankruptcy protection. Falling circulation and ad revenue caused Philadelphia Media Holdings to make the Daily News into an edition of The Philadelphia Inquirer. Without making any other changes to the Daily News, making it part of The Inquirer would combine the circulation numbers of both papers by the Audit Bureau of Circulation. The idea is to make the newspapers more attractive to advertisers. History from Wikipedia and OldCompany.com (old stock certificate research service).