Beautifully engraved certificate from the Playboy Enterprises, Inc. . This historic document was printed by the American Banknote Company and has an ornate border around it with a vignette of an allegorical woman holding a globe infront of major buildings and landmarks from around the world including the World Trade Center of New York. It also has a vignette of the Playboy Bunny on the bottom certer. This item has the printed signatures of the Company's Editor-In-Chief, Hugh Hefner and Chairman of the Board and Cheif Executive Officer.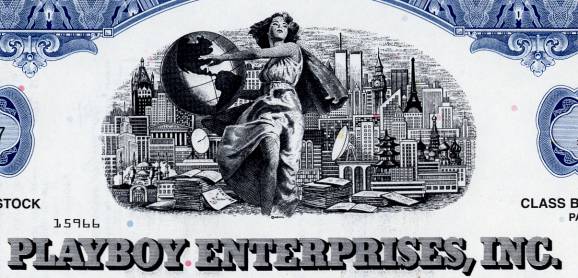 Certificate Vignette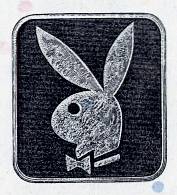 Certificate Vignette

Signatures
Playboy Enterprises, Inc. (NYSE: PLA, PLA.A) is a brand-driven, international multimedia entertainment company that publishes editions of Playboy magazine around the world; operates Playboy and Spice television networks and distributes programming via home video and DVD globally; licenses the Playboy and Spice trademarks internationally for a range of consumer products; and operates Playboy.com, a leading men's lifestyle and entertainment Web destination. The company's four business groups are Publishing, Entertainment, Licensing and Playboy Online. Publishing Playboy is the world's best-selling men's magazine. Almost 10 million American adults read Playboy every month, and the magazine's U.S. total paid circulation of 3.15 million is larger than that of Esquire, GQ and Rolling Stone combined. Additionally, an estimated 5 million adults read the 18 international editions of the magazine, bringing Playboy's global readership to almost 15 million. Capitalizing on Playboy's global recognition and reputation, the company more than 25 years ago began expanding its publishing franchise overseas. Locally produced editions of Playboy are published in 18 countries: Brazil, Bulgaria, Croatia, Czech Republic, France, Germany, Greece, Hungary, Italy, Japan, Netherlands, Poland, Romania, Russia, Slovakia, Slovenia, Spain and Taiwan. Entertainment Playboy TV and the company's Spice-branded portfolio of movie channels are available in more than 113 million U.S. cable and direct-to-home satellite household units. The company also operates more than 50 Playboy and Spice networks with partners in more than 50 countries throughout Europe, Latin America and Asia. Its television programming, DVDs and home videos are available in 200 countries and territories. Playboy videos are consistently amoung the top labels on Billboard's "Top Video Sales" annual rankings.