Very interesting 1 pp. letter dated Alexandria, Virginia, Apr 28 1812, from [Col.] Charles Simmes, to Jonah Thompson, Georgetown DC, favor carried by Edward McCarty, relating to the Potomac and Shenandoah Navigation Lottery, which was utilized to finance the Potomack Canal. The content reads, in part, "Edward McCarty, son of Col. McCarty, informs me that he has come down to receive the balance due his Father for his prize drawn in the Potomac and Shenandoah Lottery. That his Father has entered into an engagement to pay on the first of May next a sum of money expecting to receive the balance due to him for his prize. I request you to procure the Directors in George Town to form a board to take the subject into consideration, and do what to them shall appear right. The next stated meeting of the Board will be on the Tuesday next, but Col. McCarty wants his money before that time, if it can be procured. The meeting ought to be in Alexandria in course, but on account of Mr. Carleton's illness, I think it will be best to have the meeting in George Town, when Mr. Thompson and myself will attend, of which you will please inform the directors in George Town ... [signed] Ch. Simmes." The Potomac and Shenandoah Navigation Lottery, of which Jonah Thompson was Agent and a Director, was establish to fund a portion of the old Potomack Canal, which had been organized originally, with George Washington as its first President in 1785, for the purpose of improving the navigation of the Potomac River by deepening the channel and cutting canals around the various falls which impeded transit. Construction of these improvements progressed rapidly until 1802, when financial difficulties forced curtailments. From 1810-18, the company conducted the lottery in an unsuccessful attempt to raise runds. The canal company continued until 1828, when it failed, and its property was transfered to the Chesapeake and Ohio Canal Company.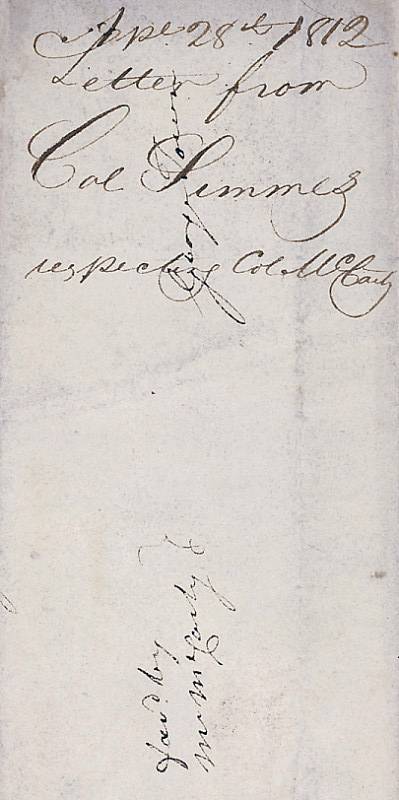 Back of Document
Charles Simms (17551819) was a lawyer and public official from Virginia. He was born in 1755 in Prince William County, Virginia, the son of Jane Glascock Purcell and John Simms. He was studying law at the beginning of the American Revolutionary War and on 12 November 1776 became a major of the 12th Virginia Regiment. On 29 September 1777 he became a Lieutenant-Colonel of the 6th Virginia. He transferred to the 2nd Virginia on 14 September 1778, and resigned as a colonel on 7 December 1779. Because of his service he was a member of the Society of the Cincinnati. After the war Simms practiced law in Alexandria, Virginia. He represented Fairfax County in the Virginia House of Delegates in 1785, 1786, 1792, and 1796, and was a delegate in the Virginia Ratifying Convention in 1788 that ratified the United States Constitution. He served on the committee that recommended amendments to the Constitution. In 1799, he successfully defended a land claim in the United States Supreme Court case Irvine v. Sims's Lessee; his last name was misspelled in the official court records. While serving as mayor of Alexandria in 1814 he surrendered the town to the British. While censured for his actions he was later exonerated. During the course of his adult life he was a Mason as well as an acquaintance and associate of President George Washington. Simms served as a pall bearer at Washington's funeral along with Dennis Ramsay, William Payne, George Gilpin, Philip Marsteller and Charles Little. All were colonels in the Revolution and had served Washington. They also were all Masons and all but one were members of the Masonic Alexandria-Washington Lodge No. 22. Col. Simms married Nancy Ann Douglass, daughter of Major William Douglass and Catherine Van Buskirk, on 15 Dec 1778 in Trenton, New Jersey. To this marriage were born eight children. Simms died on 29 Aug 1819 in Alexandria, Virginia, and was buried with military and Masonic honors on 31 Aug 1819. He is buried at Christ Church (Alexandria, Virginia) Cemetery, Alexandria. History from Wikipedia and
OldCompany.com
(old stock certificate research service).