Beautifully engraved certificate from the Pugh Stores Company issued in 1917. This historic document was printed by the Western Bank Note & Engraving Company and has an ornate border around it with a vignette of an allegorical woman standing on a step with the inscription "I Will" with a city in the background. This item is hand signed by the Company's President ( Jas. A. Pugh ) and Secretary and is over 87 years old. Folded otherwise EF.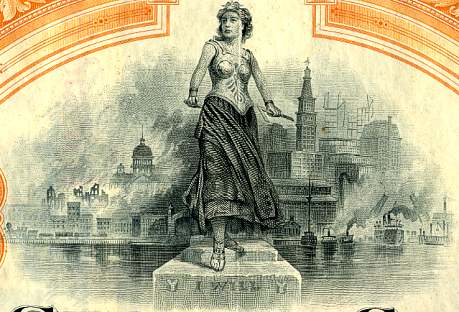 Certificate Vignette
In 1916, the Pugh Stores Company was one of the largest and most comprehensive merchandise establishment in Southern Illinois. It occupied the mammoth five-story building on Upper Market Street and handles everything for mankind according to the The Massac Journal-Republican dated August, 10, 1916. The object of the Pugh Stores Company-a chain of stores in eleven central states-is to bring the customer in close touch with the producer and manufacturer, at one small profit between the two.