Beautiful certificate from the Quiksilver, Inc . This historic document was printed by American Banknote Company and has an ornate border around it with a vignette of the company logo and a modern woman. This item has the signatures of the Company's Chairman and Secretary.

Certificate Vignette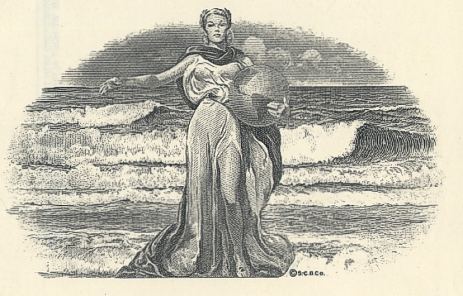 Certificate Vignette
Quiksilver, Inc. (NYSE: ZQK), based in Huntington Beach, California, is one of the world's largest manufacturers of surfwear and other boardsport-related equipment. Its logo consists of a large wave with a mountain on a red background, representing California or CA, though some believe it to have been influenced by The Great Wave off Kanagawa. The company also markets a line of apparel for young girls and women, under the brand Roxy. Its logo consists of two copies of the Quiksilver logo, one reflected, forming a heart. Quiksilver purchased Skis Rossignol for $560 million in 2005, but sold Rossignol on November 12th, 2008 for 30 million euros ($37.5 million) in cash and a 10 million euro note ($12.5 million). It owned golf-equipment maker Cleveland Golf up until October 31, 2007, when it sold the company to a Japanese sporting goods company. The company's DC and Hawk brands are also synonymous with the heritage and culture of surfing, skateboarding and snowboarding, and its beach- and water-oriented swimwear brands include Raisins, Radio Fiji and Leilani. The Rossignol, Dynastar, Lange, and LOOK brands are leaders in the alpine ski market, and the Company makes snowboarding equipment under its Rossignol, Dynastar, DC, Roxy, Lib Technologies, Gnu and Bent Metal labels. Quiksilver also carries a line of high-end apparel and accessories under its QuiksilverEdition brand. In the fall of 2008, Quiksilver will introduce its newest brand, Quiksilver Women's, aimed at the 18 to 24-year-old demographic. Quiksilver also supports the worldwide boardriding community through its self-titled foundation launched in 2005. The Quiksilver Foundation works to provide environmental, educational, health and youth-related projects to worthy boardriding communities around the globe. Quiksilver Travel also offers snow and surf travel packages to exotic locations such as Samoa, Peru and Costa Rica. Quiksilver operates over 600 stand-alone stores in major cities across Australia, New Zealand and the Pacific, Europe, North and South America, Asia, and Africa. There are two types of Quiksilver operated stores which are known as either "Boardriders Club" or "Factory" stores. Their products are also sold in many other outlets across the world such as the Fells Point Surf Company or the Ron Jon Surf Shop. In addition, the company operates a number of separate Roxy and Quiksilver Youth stores. As of 2008, Quiksilver sponsors around 500 amateur and professional surfers, snowboarders, skiers, and skateboarders. Among them are surfer Kelly Slater and skateboarder Tony Hawk. They also have the naming rights to the Quiksilver Pro surfing tournament for men and Roxy Pro tournament for women in Gold Coast, Queensland in Australia and France. Founded in 1990, with its core in board sports, Roxy is the fashion apparel brand that expresses the coastal and mountain casual lifestyle. Roxy's philosophy revolves around five core ideals - daring and confident, naturally beautiful, fun and alive. Since its inception, Roxy has grown to be the largest action sport fashion apparel company for young women. In addition to apparel, the brand also provides accessories, home items, hard goods (snow and surf), wetsuits, footwear, books, perfumes and several other product categories. Brands under the Roxy umbrella include Roxy, Roxy Girl and Teenie Wahine. The Roxy brand also supports women in sports, particularly in the surf and snow category. The Roxy team consists of world-class athletes who shred the mountain and the waves. The surf team consists of: Lisa Andersen - 4X World Champion Sofia Mulanovich - 2006 World Champion currently in a race for the 2008 world title Megan Abubo - 2005 World Champion currently in the 2008 ASP race Sally Fitzgibbons - 2007 Juniors World Champion; fastest surfer, man or woman, to qualify for the ASP World Tour Jen Smith - 2007 Longboard World Champion The snow team consists of: Torah Bright - Olympic snowboarder; 2007 World Champion and 2007 X-Game Superpipe Gold Medalist Sarah Burke - 2X X-Games Freeski Superpipe Gold Medalist Kjersti Buaas - Olympic snowboarder Roxy Sailing : Samantha Davies - 2008 Vendée Globe participant In addition to supporting athletes, Roxy sponsors several stops of the world ASP Tour with the Roxy Jam Biarritz (France), the Roxy Pro Gold Coast (Australia) and the Roxy Pro Hawaii (USA). Roxy also sponsors stops on the snowboard Ticket to Ride (TTR) tour with the Roxy Chicken Jam (USA) and the Roxy Chicken Jam Europe (Austria). History from Wikipedia and OldCompany.com (old stock certificate research service).