Beautiful certificate from the Republic Of Ireland Fenian Bond This historic document was printed by the Continential Banknote Company of New York and has an ornate border around it with a vignettes of an eagle, Thomas Osborne Davis and Wolfe Tone. This item has been signed by JJ Sullivan and Michael Scanlon, and is over 155 years old.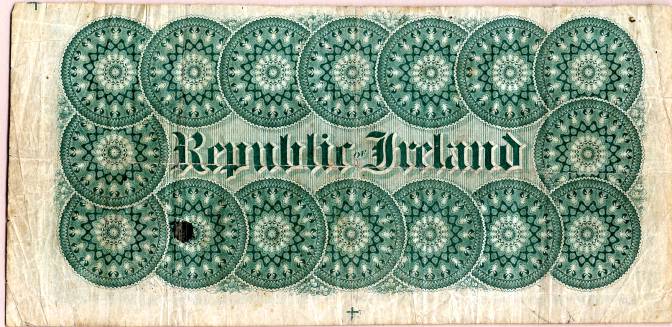 Back of Bond
The Republic Of Ireland Fenian Bonds were issued in America to fund the Fenian Rising of 1867 and were "redeemable six months after the acknowledgement of the Independence of the Irish Nation". They were intended to raise funds and finance attacks against British interests worldwide. An attempted invasion of Canada took place in 1867. They were redeemed almost eighty years later when Eamon De Valera called the outstanding Fenian bonds. History from
OldCompany.com
(old stock certificate research service) and
WWI Liberty Bonds Buyer
.