Beautiful certificate from the Richmond Virginian Co., Inc. issued in 1911. This historic document was printed by the Goes Company and has an ornate border around it with a vignette of an eagle. This item has the signatures of the Company's President, R. S. ? and Secretary, S. B. Woodlin and is over 98 years old. The certificate was issued to J. Sidney Peters and is endorsed by him on the back.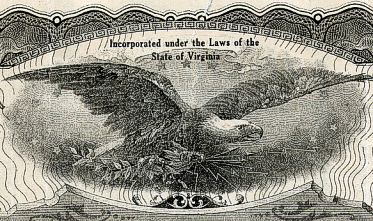 Certificate Vignette
Rev. J. Sidney Peters was Virginia's First Prohibition Commissioner and was a Methodist prohibitionist who was the editor of the Richmond Virginian. The Richmond Virginian was in business from 1910-1920 and was published in Richmond, Virginia. The Richmond Virginian was a leading Methodist newspaper and was in favor of Prohibition.