Beautiful RARE stock certificate from the Savannah and Statesboro Railway Company issued in 1897. This historic document has an ornate border around it with a vignette of Lady Liberty. This item has the signatures of the Company's President, Stilson Hutchins and Secretary. This is the first time we have seen an example of this company's stock certificate from 1897.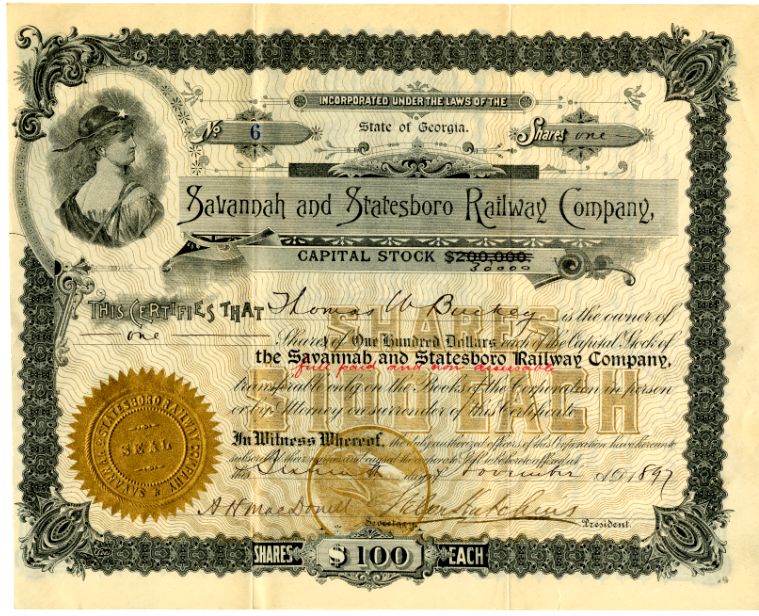 Certificate Vignette
The Savannah and Statesboro Railway began in 1897 through a reorganization of the Cuyler and Woodburn Railroad. By 1899, it operated about 33 miles (53 km) of track between Cuyler and Statesboro, Georgia, United States. The S&S also controlled the Savannah, Augusta and Northern Railway from 1911 until 1916 when the SA&N was taken over by the Midland Railway. The S&S lasted until 1933 when it was abandoned; a stub at Statesboro became the Statesboro Terminal Company, leased by the Georgia and Florida Railroad (through the Statesboro Northern Railway) until its abandonment in about 1950.
Stilson Hutchins
, founder and publisher of the Washington Post in 1877 A native of New Hampshire, Stilson Hutchins edited and owned several newspapers in the Midwest before founding The Washington Post in 1877. After cofounding the St. Louis Times, he bought the Dispatch, then lost his stake in it. Before being forced out by the new owners of the Times, Hutchins gave a foreign-born journalist named Joseph Pulitzer his first job on an English-language newspaper. Later, his friend Pulitzer contributed occasional articles to Hutchins' next venture in journalism, a "Democratic daily journal" he named The Washington Post. On Thursday morning, December 6, 1877, Hutchins published Volume 1, Number 1 -- four pages printed on rag paper and costing 3¢ -- and observed in his first editorial: Twelve years later Hutchins sold his healthy journalistic offspring in order to pursue his interest in the development of the Mergenthaler "linotype" machine which was revolutionizing the printing industry. History is from The Washington Post. Stilson Hutchins (1838 - 1912) was an American newspaper reporter and publisher, best known as founder of the Washington Post. Hutchins was born in Whitefield, Coos County, New Hampshire, on 14 November 1838, the son of Stilson Eastman and Clara Eaton Hutchins. He moved to Saint Louis, establishing the Saint Louis Times newspaper in 1866, and became a Missouri state representative for the Democratic Party. He subsequently moved to Washington, D.C., where he founded the Washington Post to advance Democratic Party views. It was first published on December 6, 1877; within a year, circulation topped 6,000 copies per day. In 1880, Joseph Pulitzer joined the staff. By 1888, Hutchins cut his allegiance to the Democrats, and bought out the paper's only competitor, the Republican National. He sold the Post in 1889. In 1889, Hutchins commissioned a statue of Benjamin Franklin to stand at the corner of Pennsylvania Avenue and 12th street, overlooking what were then the offices of the Washington Post. In 1890, he commissioned a sculpture of Charles Dickens from Francis Edwin Elwell, but backed out of the deal. In 1900, Hutchins also funded Gaetano Trentanove's Daniel Webster Memorial in Scott Circle, Washington, D.C. In August 1883, Hutchins had leased Governor's Island, on Lake Winnipesaukee in Gilford, New Hampshire, from Isaiah Morrill of Gilford, for $1,000 per year for 99 years, "with the privilege of purchasing the island within twenty years for the sum of $20,000". The arrangement took effect January 1, 1884. Hutchins built a mansion on the island in 1885.[citation needed] In 1903, he leased the mansion to the Ambassador from Germany, Baron Speck von Sternburg, who established a summer embassy there with a retinue of at least 20 persons. The Baron later wrote that the view from the mansion was as magnificent as anything in Switzerland or Bavaria, and that the advertising which he gave the region caused the sale of other summer property. The mansion was sold by the Hutchins family in the late 1920s and burned down on August 1, 1935. While Hutchins' mansion was once the only one on the island, now there are scores of large private homes. He died at his home in Washington, D.C., on 23 April 1912 and is buried at Rock Creek Cemetery. History from Wikipedia and
OldCompany.com
(old stock certificate research service)