Beautiful engraved specimen certificate from the Sheraton Corporation printed in 1964. This historic document was printed by Security Bank Note Company and has an ornate border around it with a vignette of an allegorical man and woman sitting next to the company seal. This item is over 24 years old.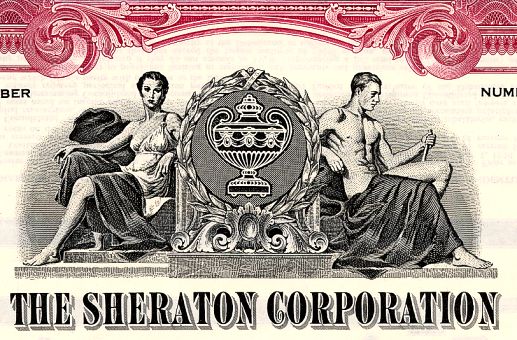 Certificate Vignette
Sheraton Hotels and Resorts is Starwood Hotels & Resorts' largest and second oldest brand (Westin being the oldest). Starwood's headquarters are in White Plains, New York. The origins of the brand date back to 1937 when Ernest Henderson and Robert Moore acquired the Stonehaven Hotel in Springfield, Massachusetts. The chain got its name from another early hotel the men acquired, which had a lighted sign on the roof saying "Sheraton Hotel" that was too expensive to change. Instead, they decided to call all their hotels by that name. Henderson and Moore had opened three hotels in Boston by 1939, continuing with their rapid expansion opening properties along the entire East coast. In 1945, it was the first hotel chain to be listed on the New York Stock Exchange. In 1949 Sheraton expanded internationally with the purchase of two Canadian hotel chains. The 1960s saw the first Sheraton hotels outside the US and Canada with the opening of the Tel Aviv-Sheraton in 1961 and the Macuto-Sheraton outside Caracas, Venezuela, in 1963. By 1965, the 100th Sheraton had opened its doors. The multinational conglomerate ITT purchased the chain in 1968, after which it was known as ITT Sheraton. ITT Sheraton reached a milestone in 1985. It became the first Western company to operate a hotel in the People's Republic of China assuming management of the state-built Great Wall Hotel in Beijing, which became the Great Wall Sheraton. In 1994, ITT Sheraton purchased a controlling interest in the Italian CIGA chain, the Compagnia Italiana Grandi Alberghi, or Italian Grand Hotels Company, which had been seized from its previous owner, the Aga Khan, by its creditors. The chain had begun by operating hotels in Italy, but overexpanded across Europe just as a recession hit. [2]. These hotels formed the core of what came to be the ITT Sheraton Luxury group, later Starwood's Luxury Collection. In April 1995, Sheraton introduced a new, mid-scale hotel brand Four Points by Sheraton Hotels, to replace the designation of certain hotels as Sheraton Inns. In 1998, Starwood Hotels & Resorts Worldwide, Inc. acquired ITT Sheraton (outbidding Hilton). It has since grown to become one of the leading hotel companies in the world. Its other brands include Four Points by Sheraton Hotels, St. Regis Hotels & Resorts, The Luxury Collection, Element , Le Méridien, W Hotels, and Aloft. Since buying ITT Sheraton, Starwood has created a fourth brand from their hotels. St. Regis Hotels & Resorts are named after the famous hotel on Fifth Avenue in New York, which had been a Sheraton for years. That hotel and the former Sheraton Carlton in Washington, D.C., were two of the first hotels in the new chain, which now spreads across the globe. History from Wikipedia and OldCompanyResearch.com (old stock certificate research service).
---
About Specimens
Specimen Certificates are actual certificates that have never been issued. They were usually kept by the printers in their permanent archives as their only example of a particular certificate. Sometimes you will see a hand stamp on the certificate that says "Do not remove from file". Specimens were also used to show prospective clients different types of certificate designs that were available. Specimen certificates are usually much scarcer than issued certificates. In fact, many times they are the only way to get a certificate for a particular company because the issued certificates were redeemed and destroyed. In a few instances, Specimen certificates we made for a company but were never used because a different design was chosen by the company. These certificates are normally stamped "Specimen" or they have small holes spelling the word specimen. Most of the time they don't have a serial number, or they have a serial number of 00000. This is an exciting sector of the hobby that grown in popularity over the past several years.