Beautifully RARE engraved specimen certificate from the Stewart - Warner Speedometer Corporation printed around 1915. This historic document was printed by the Republic Banknote Company and has an ornate border around it with a vignette two allegorical women on the sides of an old speedometer. The speedometer indicates season mileage, trip mileage and speed. This item is over 101 years old. This is the first time we have had this type of certificate for sale.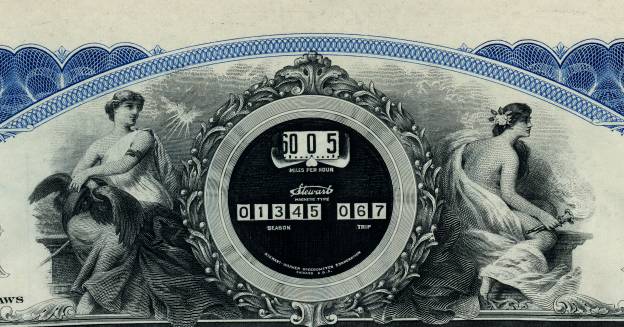 Certificate Vignette
Stewart-Warner is a US manufacturer of vehicle instruments, a.k.a. gauges. The company was founded as Stewart & Clark Company in 1905 by John K. Stewart. Their speedometers were used in the Ford Model T. In 1912 John Stewart joined with Edgar Bassick to make vehicle instruments and horns. Bassick owned Alemite Co and Stewart had bought the Warner Instrument Company, thus the name was changed to Stewart-Warner Corporation. The company started in Chicago and built a manufacturing plant on Diversey Parkway. The building kept expanding and finally covered one-million square feet (93,000 m²) and six floors. They also made radios and refrigerators, and produced the ubiquitous "zerk" grease fitting, named after its inventor, associated with the company. In the last years of the company's Chicago factory, it owned a number of aging six-spindle Brown & Sharpe and New Britain screw machines. They also made heat exchangers starting in the 1940s under the "South Wind Division", but since then it became independent of its parent. They still use the Stewart-Warner name, and the web site is hyphenated: http://www.stewart-warner.com/ In the 1980s the company was bought by BTR plc who in the early 1990s decided to relocate to Juarez, Mexico and Stewart-Warner was taken over by another management team. In early 1998 Stewart-Warner was bought by Datcon Instrument Company (later renamed to Maxima Technologies), but kept the Stewart-Warner brand. Stewart-Warner Speedometer Corporation Stewart and rival instrument manufacturer, Warner Instrument Company, were in heated legal battles over patent infringements by both parties. All lawsuits ceased when Stewart bought the Warner Instrument Company in 1912. Stewart-Warner Speedometer Corporation was formed the same year by consolidating the Warner Company with the Stewart & Clark Manufacturing Company. Once again the name changed in 1929 to Stewart-Warner Corporation.
---
About Specimen Certificates
Specimen Certificates are actual certificates that have never been issued. They were usually kept by the printers in their permanent archives as their only example of a particular certificate. Sometimes you will see a hand stamp on the certificate that says "Do not remove from file". Specimens were also used to show prospective clients different types of certificate designs that were available. Specimen certificates are usually much scarcer than issued certificates. In fact, many times they are the only way to get a certificate for a particular company because the issued certificates were redeemed and destroyed. In a few instances, Specimen certificates were made for a company but were never used because a different design was chosen by the company. These certificates are normally stamped "Specimen" or they have small holes spelling the word specimen. Most of the time they don't have a serial number, or they have a serial number of 00000. This is an exciting sector of the hobby that has grown in popularity over the past several years.