Beautiful certificate from the T-Bone Gold Mining Company issued in 1899. This historic document has an ornate border around it with a vignette of an men working in a mine. This item has been hand signed by the Company's officers and is over 120 years old.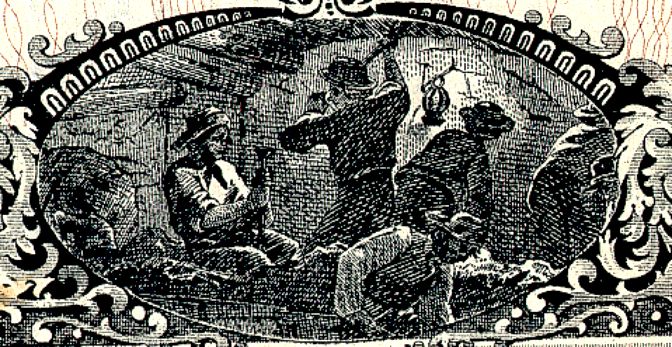 Certificate Vignette
The official manual of the Cripple Creek district, Colorado, U. S. A., Volume 1 - 1910 T-Bone Gold Mining Company Incorporated. Directors Chas. N. Miller, President; S. M. Perry, Vice - President; W. L. Clark, Secretary and Treasurer. Main Office--Cripple Creek, Colorado. Capitalization 2,000,000 shares. Par value, $1.00. In treasury January 1, 1900, 20,000 shares; in treasury January 1, 1900, $565.00 cash. Property Owns the E. J., containing 10 1-3 acres, patented; the Thel- ma, the Chrystal, the Mayflower, and the T. Bone, containing in all 20 acres, all in process of patenting. These claims are sit- uated in the S. E. 1-4 of section 11, and in the N. E. 1-4 of sec- tion 14, on the south- west slope of Mineral hill. Development Shaft house 16x20 feet. The Thelma has a shaft 175 feet deep and 250 feet bottom drifting, with 100 feet of drifting at the first level. The Chrystal has two shafts, one of 80 feet depth and one of 60 feet depth, with 70 feet of drifting. On the E. J. are two shafts, one of 125 feet depth with 30 feet of drifting, and one of 75 feet depth with 50 feet of drifting. There are also 5 other shafts, 40, 20, 35, 60, and 20 feet deep, respectively. The greater part of the development work is being done on the Thelma. Highest price for stock during 1899,1 1-2 cents; lowest price for stock during 1899, $5.00 per 1,000 History from
StockResearch.pro
(Professional Old Stock Certificate Research Service).