Beautifully engraved certificate from the Toledo Peoria and Western Railway Company issued in 1887. This historic document was printed by the American Banknote Company and has an ornate border around it with a vignette of a train. This item has the signatures of the Company's President, and Secretary, and is over 122 years old.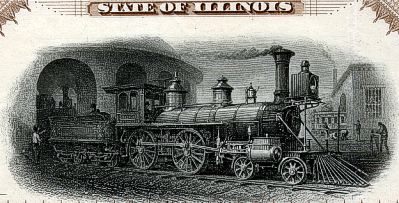 Certificate Vignette
The Toledo, Peoria & Western was incorporated in Illinois on March 28, 1887 and consolidated the operation of the Toledo, Peoria, and Warsaw Railway and the Logansport, Peoria, and Burlington Railroad. The Logansport, Peoria and Burlington Railroad, built from Galesburg to East Burlington, Illinois in 1855, reached Gilman, Illinois in 1857, and Effner in 1859. A TP&W passenger train was involved in the Great Chatsworth Train Wreck in Chatsworth, Illinois in 1887. The Toledo, Peoria & Western Railroad purchased six Class H-10 Northerns from the American Locomotive Company in 1937. These locomotives were given road numbers 80 through 85 and were the lightest 4-8-4 ever built for a North American railroad, weighing only 361,000 pounds. They had 69-inch drivers, 23.5 x 30 cylinders, a 250 psi boiler pressure and a tractive effort of 51,000 pounds force. In January 1960, the ATSF & PRR gained joint control (half interests) of TP&W. When the Penn Central collapsed in 1976, the TP&W acquired the former Pennsylvania Railroad trackage from Effner into Logansport. In 1979, the Toledo, Peoria & Western was acquired by the Santa Fe. TPW was merged into ATSF on December 3, 1983. The ATSF sold the main line on February 3, 1989 to new investors called Delaware Otsego Corporation, who reused the TP&W name; TP&W was an independent railroad again. In 1998, TP&W had revenues of approximately $13.4 million and moved over 59,000 freight carloads and intermodal units. Acquired by RailAmerica on September 3, 1999, it is still operated as TP&W. History from Wikipedia and OldCompany.com (old stock certificate research service).