Beautiful certificate from the American Copper Mining Company issued in 1887. This historic document was printed by John Polhemus Banknote Company and has an ornate border around it with a vignette of a group of working miners. This item has the signatures of the Company's President and Secretary and is over 128 years old.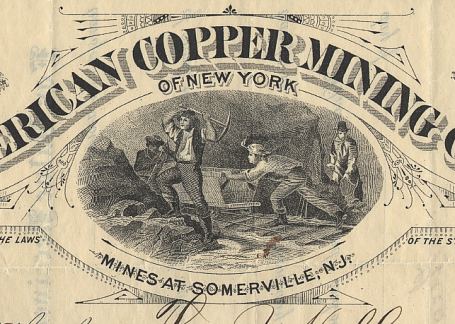 Certificate Vignette
The Copper Handbook 1902 AMERICAN COPPER MINING COMPANY. Organized in 1881, has 500,000 shares, par $1, non-assessable. Josiah C. Reiff, president. Principal office, 20 Broad St., New York. Mine post- office, Somerville N. J. Mining lands, about 800 acres, include the old Bridgewater mine, opened in the Eighteenth century. Mine is working small force. Main tunnel is 1,100 feet long, following dip of vein at about 10 degrees. Vein has been traced several miles on surface and runs about 2 feet wide, carrying native copper, oxide and carbonate ores. Has small concentrating mill and experimental smelter. Output for 1901 was 8,OOO pounds, from experimental smelting test. Development will be continued in 1902.