Beautiful certificate from the Eden Musee American Company Limited issued in 1887. This historic document has an ornate border around it with a vignette of an eagle. This item has the signatures of the Company's President and Treasurer and is over 122 years old.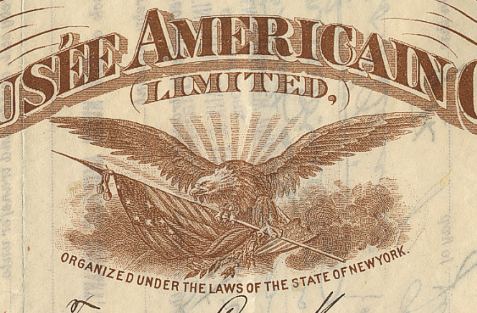 Certificate Vignette
The Eden Musee' was founded in 1883 and was located on Twenty-third street, between Fifth and Sixth avenues in Manhattan. A popular destination point for visitors to New York City for over thirty years it was America's answer to Madame Tussaud's Waxwork in London. Eden Musée was the first to introduced moving pictures as an attraction at the Musée by installing imitation Kinetoscopes in 1895. Primarily a Museum of wax groups, some of which were meritorious as works of art. Secondarily a concert hall and variety house. The establishment was 75 feet wide and ran through the block to 24th street, on which it had frontage of 50 feet. Built 1886. Demolished in 1916.